In the exclusive interview of JYJ's KIm Jaejoong in the Protect the Boss X Files special behind the scene program aired on September 10th, 2011, the lead actor of Protect the Boss had talked about his performance in acting as drunk or intoxication.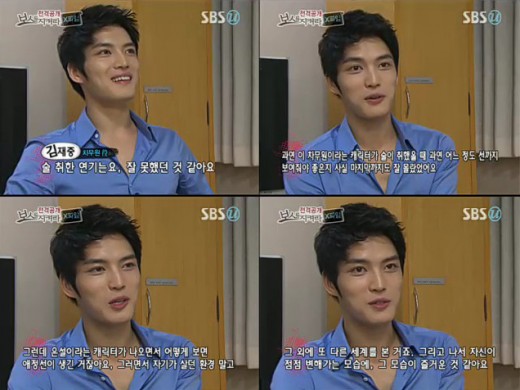 In one of the scene of Protect the Boss, Cha Muwon (played by Jae-joong) is getting intoxicated with Nol Eun Sul (played by Choi Kang Hee). When asked about the drunk scene, Jae Joong said, "I don't think I was doing at good job. To be honest, even up until the end, I didn't have the slightest clue as to what's the limit is right for the character of Cha Muwon when he is drunk.
Jaejoong said disappointedly, "If I could redo the scene now, I would be able to act it more realistically. I would have swayed a bit more, changed my facial expressions more frequently, and would have acted with more drunk affections.
About the love line with Noh Eunsul, Jaejoong said, "Cha Muwon is a person who focused on job, but through Noh Eunsul he sees a new world. I think he is having fun watching himself can change through some."
via TV Report