"Our Kim Bum has grown up". This sentence is to describe feeling of parents who have raised a child and after the child formed a family. Recalling the "boarding Bum" who used to put up at the house of Soon Jae with naughty look on his face (High Kick!), and then take a look at current pointed and strong man, have to let people reveals the "smile of delighted mother." Actor Kim Bum (23) debuted for 7 years, he who debuted through audition program at 16 years old has starred in 7 TV series and 3 movies.
The audience has been watching the transformation of Kim Bum from adolescence to adult. He has played the role of young Lee Dong-cheol in "East of Eden" (2008), So Yi Jung flower high school buy in "Boys Over Flowers" (2009) and Ha Min-jae who loves a 10 years older female undergraduate Ha Min-jae in "The Woman Who Still Wants To Marry" (2010).
He also starred in JTBC TV series Padam Padam of author Noh Hee Kyung. In the drama, he plays guardian angel for Jung Woo Sung who was wrongly accused of homicide and sent to jail for 17 years, Lee Gook Soo. If saying that Yang Kang Chil is the dejected self of Noh Hee Kyung, then Lee Gook Soo is the avatar of Noh Hee Kyung. Lee Gook Soo is a four-dimensional angel who can speak such as words of "the will of brother will save brother," his lines in the drama just fit his style.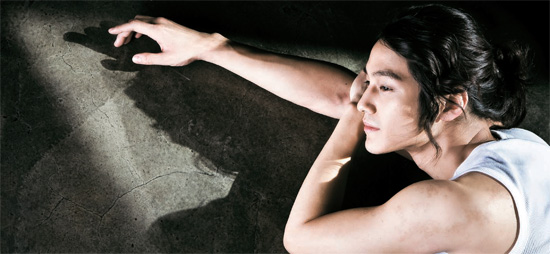 On January 29th, 2012, the reporter encountered Kim Bum who was shooting the last episode in a coffee shop at Hwaseong, Gyeonggi Province. The 20-episode Padam Padam is ending with grand finale on February 7th, 2012. After the greetings, the reporter directly put forward questions to him.
– Is Gook Soo really an angel?
"All the casts and crews were filming in the state that do not know the true identity of Lee Gook Soo. For me, in order to integrate into the true feeling, so while filming I strongly believe that he is an angel."
– Want to play an angel does not seem easy, right?
"I purposely watched "Angel-A," "DOGMA" and other foreign films with the role of angel. During filming, everything is realistic, but when want to perform something of own fantasy, it's not easy. When shooting, I have done with opening both arms to do the action of flapping the wings, at that time as long as the director shouted "cut," the staff crews all burst out laughing. 10 hours of continuous hanging on wire, which made my full body hurt."
In order to star in the drama, Kim Bum lost 11 kg. He who plays the role of younger brother of Jung Woo Sung also does not want to let himself lags behind, also hope to show the charm of the "storyteller", and he would also like to get rid of "flower boys", "small brother male" images. Because there is a plot of growing wings on the back in the drama, so he has scenes that is more revealing.
In fact, the sharp jaw line and solid muscles have let everyone to reflect that, "Kim Bum has turned into a man." He said, "In two months time, I has bodybuilding during the day, riding a bike at night, stop taking the carbohydrates and fats. During the initial shooting, because I slim down by a lot, so it's too much to take in term of physically."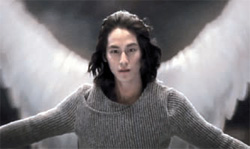 Not only is the appearance changed, his eyes' expressions are also different. In order to raise the surgery fee for mother who is suffering from gastric cancer, Lee Gook Soo robbed the ATM. In the drama, the tragic acting of Kim Bum who follows the last words of her mother to "become the angel who save others" and wants to help Kang Chil is very compelling. The brain structure of Lee Gook Soo who is full of "thought about Kang Chil" has also become a topic of discussion between the Internet users.
– The scene of which you are sobbing painfully in front of Kang Chil who was shot and fell into a coma is impressive.
"Because of this scene, I didn't sleep for four days, even without eating a meal on the day of shooting. In episode 15, it's content about tidying the life of Kang Chil, Gook Soo also has a scene of understanding the truth that "miracle is not given by god, but is created by oneself" and confession, so I felt that is very important. I also often recall the happiness between the casts and crews who worked hard over the five months."
Lee Gook Soo is not an "perfectly completed" angel, but an angel who keeps growing. Kim Bum said, "I hope to be able to become an actor who can show the two sides of the good and evil." The audience also hope that "our Kim Bum" can realize the handsome flying through the role of Lee Gook Soo.
via Joongang Daily