If you are impressed with brilliant performance of the beautiful boy Kim Bum in High Kick and Boys over Flowers, it's time to throw away such impression now.
Kim Bum is playing the role of Lee Gook Soo in the launch drama of JTBC, Padam Padam… The Sound of His and Her Heartbeats. In this come back to the small screen drama, Kim Bum is more mature. Before the premiere of TV series, a set of photos of Kim Bum after slimming down was published, shocking the viewers. And now the filming of the TV series is still ongoing, reporter rushed to the filming set on Gyeonggi-do to have an interview with him.
For the filming Kim Bum slimmed down 10 kg. Although it's said primarily for the TV series, but he who always has the image of beautiful boy also wants to have a chance with this.
"I thought of so when not shooting. I have to continuously filming, the image cannot be static. Personally I need a change. Comparing with the call as "beautiful boy," I prefer to be a 'man.'" So, Kim Bum reduced 10 kg at one go, showing a completely new look, which can be described as reborn, just like a different person.
And behind this transformation, can image the amount of bitterness and efforts of Kim Bum went through. It's really amazing that he achieved such a result in just two months.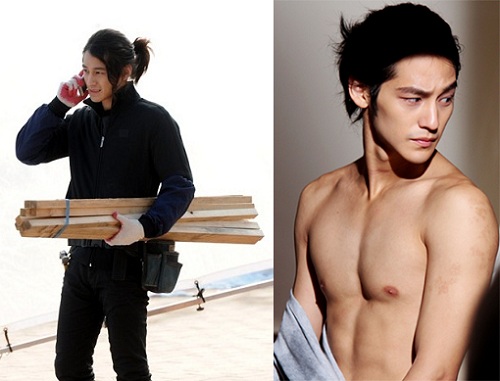 "I used 2 months just right to reduce 10kg. It's all tears. Always been home, gym, home, gym, constantly exercise. The food is also limited. Chicken breast, banana, sweet potato, only these three. When reaching stable stage, everyday I eat a potato, a cup of icy American coffee, and a banana."
After the tireless efforts is a Kim Bum with remarkable achievement, and then he joins that filming of Padam Padam. But the food to eat is still very strict, the temptation while filming is aplenty.
"There is a time we shot the posters and trailers for the TV series. I was particularly hungry at the park. Then the park was full of people who came to play, and all of them was sitting there eating by family. Then the production crews would go to touch the kids when seeing kids, and said 'so cute' kind of words, as the result I just stared at the biscuit at the hand of children." (Laughs)
Although the effect is obvious, and has also creating the 'man' image. But such as rapid weight loss also has side effects. There was a staff who said Kim Bum looked a bit old, which surprised Kim Bum.
"After losing the weight, everybody said it's good. But suddenly one person said to me that I look old. But indeed so. Loss 10 kg in 2 months, the skin also becomes loose. So now I'm a little fatter, about 3 kg." (Laughs)
Kim Beum transformed from beautiful boy to a man, and this let the shooting of pictorial photos has more texture. Kim Bum also said, pictorial photos of such effect can be considered as a gift to himself.
"I always have a wish, that I can train a good body figure to shoot pictorial photo. This time coincidentally just shot a set, can considered as achieved the aim. everybody said my face looks better, let me feels that the prior hard works was nothing."
via MyDaily