On January 7th, 2012, the acting of Kim Hyung Joon who is originating from SS501 in the premiere episode KBS Drama channel's Glowing She (Shining Girl) is attracting people's attention.
During the episode 1 and 2 which aired back to back, Kim Hyung Joon who is appearing as the top star of entertainment industry, Kang Min, is transforming from the sweet young singer into cavil big star.
What's most eye-catching on the day's broadcast is the bed scene betwen Kim Hyung Joon and Seung Hyo Bin. Although the sexual activity is not directly shown, but the atmosphere is erotic and arousing.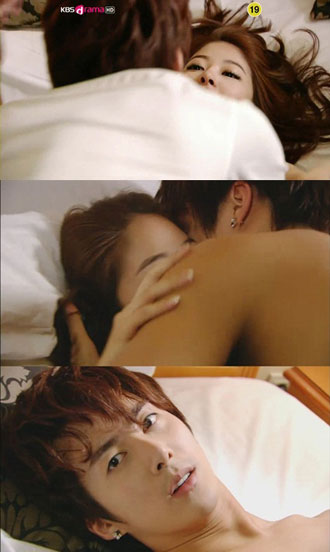 In the drama, Seung Hyo Bin is a character who eyes covetously on the supporting character that threaten Kim Hyung Joon in the drama. So agency of Kim Hyung Jun says that "it's necessary as the prerequisite for the development of the story, and also to show the acting skill," and other reasons.