Kim Hyung Jun is playing the role of an ill breeding Kang Min in KBS N drama series Glowing She, and is engaging in sweet romance with entertainment writer So Yi Hyun (28). There are many comments on Kim Hyung Jun debut as an actor. One reason is because he is from an idol group but is becoming the actor in leading role in the drama. But he doesn't have time to care about bad comments, he has to prepare to new year plan, and also to surpass his colleagues who are better than him.
Kim Hyung Jun said, "Although I know there is concerns to be an actor, but for the past one year I have been training hard on acting skill. I will let you see my strength. Want to win the newcomer award in this year end drama awards." Used to hear that even though he caught a cold and coughed, but also working hard with energetic expression in eyes towards his vision of "ambitious idol."
– "Ambitious Idol" start acting
"Very much like acting. I feel that acting is the most able to express the part of my part after solo. In the past one year I have been working hard in practicing acting skill. Fortunately, been a radio DJ for a long time, and the evaluation as the queit person because of the voice and tone. Now, though still a very early stage, but isn't is a good start is winning half the battle? Please looking forward to it."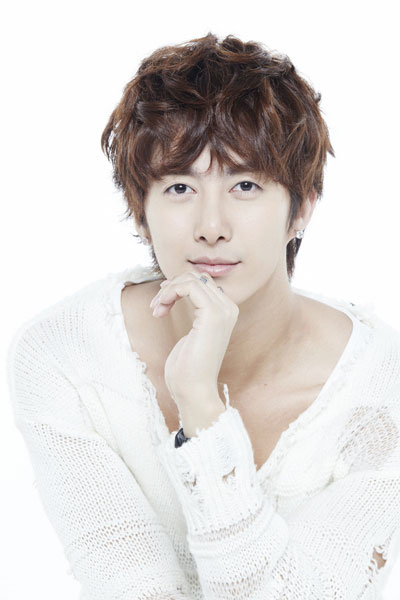 – How is the reaction after the broadcast
"Actors and director watched together. Director said, 'Has been working hard, just do so in future.' Seniors also also encouraged me, 'Do not forget the initial intention, as long as you're like currently then you can become a good actor.' I think because I don't have big expectation, so the response is good. In order to hear the praise that I act well, I will strive harder."
– Reduce weight of 8kg
"People seems to know why reduced the weight, it's just slight reduction of fat, please re-look at me. I took a photo before exercising, and has become to the extent which I couldn't even recognize is who. Been understood as going through plastic surgery is also very sweet."
– In the drama you act in the role of uneducated top star, what's your actual look?
"Think about it, I used to made cry by my brother agents. Seems to hurt from the ruthless words of brothers before. Kang Min does not want to reveal the pain and deliberately does no good. When meeting with people who understands such pain, he will open up his heart. If stand by his side, he will entrust his feelings."
– Because the acting, the competition with Kim Hyun Joong started
"I think it is a good competition. Actually I was envy when brother starred in Flowers Over Boys, and also want to act. Now I have also started. Now it is embarrassed to compare with brother. Because of putting in 5 times more efforts, working in order not to discredit the name of SS501. The newcomer award for this year must also be won unconditionally."
– Received congratulatory calls from members of the band
"Not long ago just chat with Kyu Jong on phone. He said, 'always watch, let's drink together after completion of drama.' Other brothers have gone overseas, so they sent text messages. Because everybody is quite busy, so cannot contact regularly like before. Even so, I also know that members are missing me."
– Fall in love with older So Yi Hyun
"It's tired for change of feelings with elder sister (So Yi Hyun) who is like elder brother. But after makeup and standing in front of camera, she is just like turned into another person. Entirely beautiful. So far I always in relationship with girls younger than me. Together with younger girls, will occasionally dislike the sad reality that having to always be the one to take care of them. Had a painful experience. Plan to love older woman from 2012 onwards."
– Used to have experience falling in love with people from entertainment industry
"Used to produce feelings naturally with same-age designer after together a few months. In any case it seems that at around 20 plus years old, will like as long as together with girls. If there is gathering banquet, other party will fonding posture, therefore will look at her more, but never happens the situation that will in contact with the girl based on this."
– Ideal type
"Is Moon Chae Won. Like her voice and tone. The image of dignified, elegant and innocent is also completely my style. among the junior pop girl groups, Apink's Son Naeun is very beautiful. 4Minute Hyun-a has sexiness that beyond her age, and charm that difficult to express with words."
– Become an old idol
"Feel the real sense of becoming old. Firstly feels a lot of changes. Will fall asleep when peeling apple or when looking at cell phone. When debuting, won't feel tired even slept for just 2 hours. Now really have to adjust the condition. Now taking cornu cervi pantotrichum."
– Artist friends that close together recently
"Jang Keun Suk is a friend that probably comes out once when calling out twice. Really like the 'cool' of this friend. is completely an artist when looking farer from 100m, but the action done is community friend. Brother Song Seung Heon will probably come out once when calling out for 10 times. Haha, I become familiar after attending brother's Fan Meeting. Thank him for coming on my birthday."
– Own evaluation for the past one year of going solo
"There is some part that I did well, but there is also a lot of weaknesses. Looking at the pop idol groups that debuted at the same time but still in action currently, will have a pity that 'it would be better if we strive for about 1 year to win a music industry award.' But I feel that the is still chance. In addition, solo activities is worthy of the name of 'ambitious idol.'"
via Joonang Daily