Kim Hyung Jun who originating from SS501 is showing his almost perfect ability on home theater.
Currently, he is playing the role of top popularity top star Kang Min in the KBS Drama cable drama series Glowing She (My Shining Girl). In the drama, the singing ability that worth flaunting is just a basis, the showing of solid muscular body in the swimming pool scene is even exuding various charms. In his first ever drama series, he has shown stable acting, surprising everybody.
Kim Hyung Jun said, "Probably because of (Kang Min) personalty is originally very similar to me, at the beginning I had a little self-confident, it's similar when being a singer, by using the way of thinking 'as is enjoying it,' seemed like can feel more relaxed."
With the first performance in the "Café In" in 2011, he sincerely expressed his thought, "From the beginning of the musical, I have the idea to star in TV series. I chose to start from musical because I thought I was originally a singer so I can use more songs to show my strength. Practicing the acting on the stage and then appear in drama series, so now I'm here, and, although this time it's a series for cable TV channel, but in future I also hope to star for TV series broadcast on terrestrial TV stations."
From his speaking with fervor and assurance, it can be seen that he has a careful plan. He laughed and said, "My personality originally prefers to set a plan and then achieve the aim." He went on to say, "Although only 1 or 2 out of 10 plans that successfully achieved, but still add up day after day. By thinking so I will be more comfortable. At the same time, the character is very aggressive, has a lot of desires, will certainly do what he wants to do, just like now." He is also very satisfied with the confident activeness in the drama.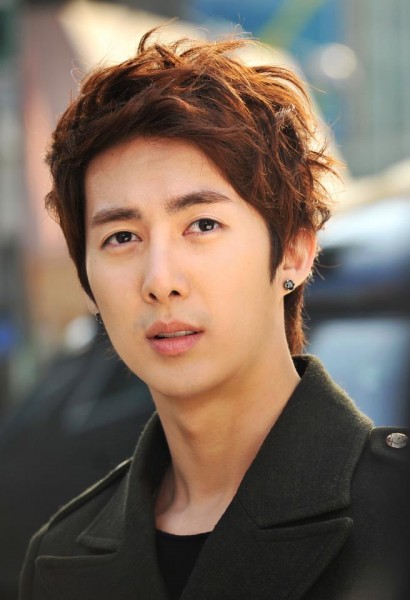 Recently, although Kang Min in the drama cannot actively confesses to his feelings to the heroine, TV station writer Jun Ji Hyun (So Yi Hyun), but the flattering look which portrayed by the drama is enough to make the female fans cheered. Kim Hyung Jun said shyly, "Originally is a very irritable top star, after I experience comprehensively, compared to the irritable side, the cute side seems to be more."
He said, "In fact, if there is such a good person, I also want to be active, essentially the ideal type is the person that I have to cherish and protect. Recently likes older woman, ha ha ha ha, why? The people who only accepts care and blindly depends on others seem to be nothing. After watching the TV series, I also produce the hope that someone can give me a call and take care of my mood. So far, I seems like the one who gets hurt because of overly helping others."
With the shooting of the drama also have the feeling to have a girlfriend, the busy TV series filming schedule seems to able to accumulate a lot of fatigue, but he shook his head to say "can't sleep, very spirit."
"First of all, I really like filming the drama." This is his first reason, "And in front of the seniors, I am still newcomer, do not want to let others see my mistakes, want to perform perfectly, so often get up early morning to read script, or wake up after sleeping a while to memorize the script repetitively, this way can have less sense of tension." Not only sense of tension, there is also his inner vitality and desire that have been truthfully revealed, but he did not deny that, "often in a tense moment, can also enjoy the feeling of trembling, the two are not contradictory."
He said: "This year, the first button seems to buckle well (the first step seems to be very smooth). The first phase has been completed, now have to prepare for the next project. Originally the album supposed to be launched, but after starting the acting career, I am more ambitious, if I can shoot TV series on terrestrial TV station is much better, and also hopes to win newcomer's award at the end of the year," the ambitious and aspiration clearly inflated. "Say like this often will certainly achieve, so I always brag to the wind," Kim Hyung Jun said and even showed a bright smile.
via Sportseoul