The actress in leading role of TV Chosun special planning masterpiece Hanbando (Korean Peninsula), Kim Jung Eun, was filming in the cold winter by just wearing bra top and hot pant, attracting attention.
In the drama, Kim Jung Eun is playing the role of researcher Rim Jin Jae at South and Korea joint R&D facility on alternative energy, who is an elite scientist of North Korea. She will have opponent play with Hwang Jung Min who is playing the role of South Korean scientist Seo Myung Joon.
The production of Hanbando revealed the photos of the scene on January 5th, 2012 where Kim Jung Eun wore a bra-top and hot pant to exercise on a ship at Geoje island, Gyeongnam. The scene that was shot on the day is the natural and relaxed exercise of Rim Jin Jae.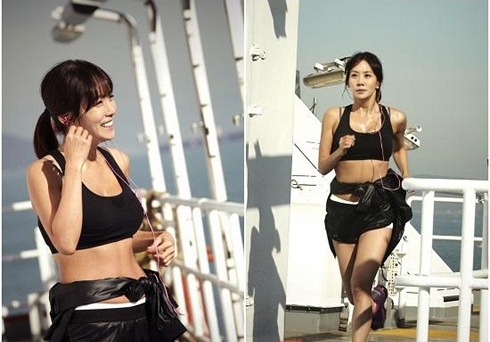 It is reported that the sea breeze was strong at that time, and the temperature dropped to minus 10 degree Celsius. Staffs were shivering even though dressed in thick coat. Kim Eun Jae sprinkled water on the body as sweat. Although the weather was cold, but she did not flinch. Relevant person on the set said, "The director shouted OK, but Kim Jung Eun still not satisfied, taking initiative to offer to re-shoot, the positive attitude let people on the set impressed.
via Chosun