Kim Jung Tae was taking a photo in funny posture with Choi Ji Woo which served as the authenticated proof to be born in Busan (Ilsan).
On the afternoon of October 18th, 2011, Kim Jung Tae wrote on his Twitter account, "The siblings of Busan girl and Busan boy at the filming venue of the final broadcast," together with a photo.
They're acting together in the MBC's Wednesday and Thursday drama Can't Live with Losing (or Can't Lose). But facing with final broadcast of last finale episode on 20th of October, they friendlily took a photo together to console the pity.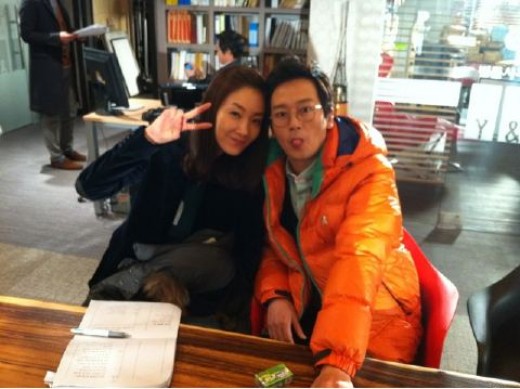 In the photo, Kim Jung Tae squeezed to the middle. Choi Ji-woo was looking at the camera with a cute expression anhd showed V sign. As the weather was cold, they were wearing thick clothes.
Netizens who saw the photo said, "It's lovely! During activities, please take good care of the body, eat seriously," "This is already the final broadcast? So pity," "Will surely watch the final episodes," and etc.
In addition, after Can't Lose, MBC will air "Me Too, Flower!" starred by Kim Jae Won and Lee Ji Ah.