Ku Hye Sun and Lee Chun Hee who are playing the role of co-pilot and air traffic controller in SBS drama series Take Care of Us, Captain are enjoying the fun of ice skating dating.
The 'big uncle' Kim Dong Soo (Lee Chun Hee) who is still staying around Da Jin (Ku Hye Sun) after his confession was been rejected, invites her to ice skating rink with the excuse of birthday, enjoying the sweet fun of ice skating dating, a path that must gone through by lovers.
They spend a great romantic time in the ice skating rink. Ku Hye Sun sings a birthday song to Kim Dong Soo in the dark, while he praises her singing skill.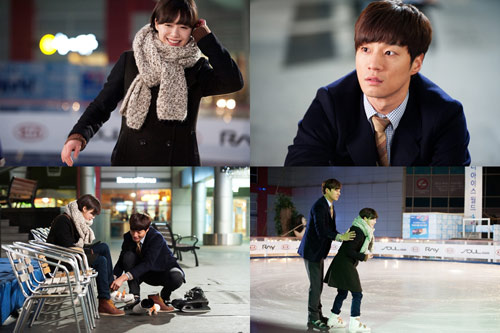 Besides, initially they were unfamiliar with ice skating, but soon they're displaying ice skating skill that not inferior to professional players. In the scene which they're playful like kids, the viewers on the scene also felt the standard which on par with with world.
An official said, "The ice skating dating scene, at first glance is a romantic picture, but it's in fact the lie for Yoon Sung (Ji Jin Hee) to temporarily separate, a sad scene. The relationship of the three persons is full of crisis."
At the end of episode 16 broadcast on February 16th, 2012, Yoon Sung wants to confess to Da Jin about the incident of mother passing away due to flight accident, he walks to the coffee shop with sorrowful eyes, heighten the tension of the drama. As well as the unexpected bomb declaration, what's kind of response expected can be seen in episode 17 of Take Care of Us, Captain broadcast at 8:55pm on March 1st, 2012 through SBS.
via Nate