The SBS Wednesday and Thursday drama series Take Care of Us, Captain has ended, the acting of lead actress Ku Hye Sun is leaving deep impression to audience.
In the final episode of Take Care of Us, Captain broadcast in the evening of March 8th, 2012, the lead male and female characters begin to start a new journey through reconciliation and forgive. Da Jin (played by Ku Hye Sun) and Yoon Sung (played by Ji Jin Hee) confirm the hearts to each other, walking to happiness together. On the other hand, Kang Dong Soo (played by Lee Chun Hee) is also welcoming a new beginning happily. The flight attendants headed by Ji Won (played by Yoo Sun) deal with trivial matters daily, spending a happy day.
After a long journey, Take Care of Us, Captain has ended. In the spotlight is the acting of Ku Hye Sun. In the drama, the character of Ku Hye Sun experienced the 'second growing' which describe the process to success warmly.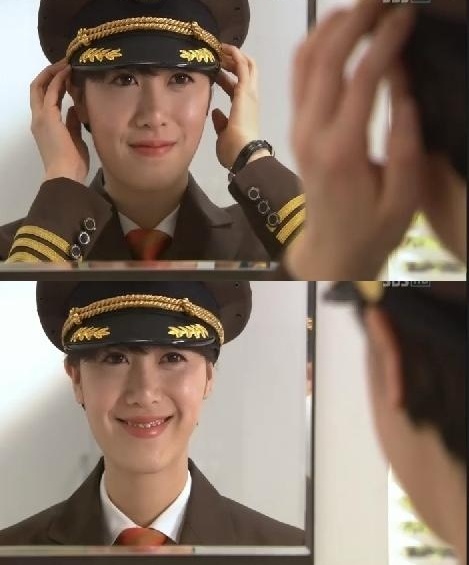 The expression acting of Ku Hye Sun in the initial stage of the drama and depressing "candy style character have led to question about her acting. But, in the later stage of the drama, she is using not so simple acting skill to interpret a variety of changing face.
She perfectly portrayed the growth story of female pilot who grown up in pampered environment, but suddenly lost her parents and have to raise younger sister alone. Facing with misunderstanding, realizing the love is difficult, and a lot of matters a lot of difficulties, the life for her is not easy. But Ku Hye Sun correctly served as the cornerstone that led the drama through her realistic eyes' expression that belongs only to her role.
Before then, Ku Hye Sun said the production press conference for Take Care of Us, Captain, "I am building a true character, to get recognition for the performance of Ku Hye Sun," determined to do preparation. Her determination made her performance a success.
Through such a role, Ku Hye Sun successfully let viewers left an deep impression in the heart to hope and dream. It's not "Ku Hye Sun of Han Da Jin," But Ku Hye Sun's role that belongs to her own. In future, her acting will be highly anticipated by the audience.
via Nate