The photos of Korean actress Ku Hye Sun during her time in high school has been exposed.
On October 3rd, 2011, Ku Hye Sun posted a message on Twitter the photo with a message, "I found a photo of me during high school time. At that time, my mother helped me to cut the hair with the scissor used to cut the kimchi."
In the photo, Ku Hye Sun who had short hair looks youthful. Her milky white skin and the big eyes do not different much from her current look. She look delicate and pretty in the photo, with was as beautiful as current her, and this has attracted people's attention.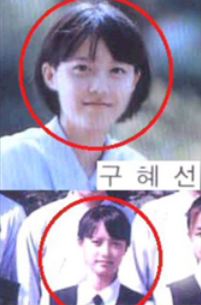 After netizens saw the photo, they commented, "You're cute," "You're already like a star in high school," "Looks beautiful," "She is shining," "You have a unchanged beauty," "Although is using kimchi scissor, but cut very well," and so on.
via Starnews