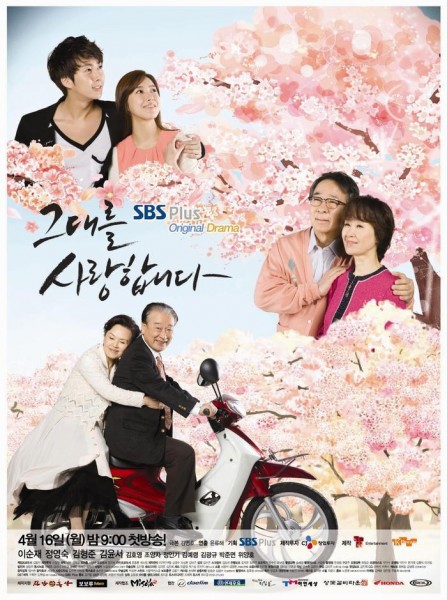 Drama Title: Late Blossom
Korean Title: 그대를 사랑합니다
Romanization Pronunciation: Geudaeleul Salanghabnida
Also Known As: Love You
Chinese Name: 我愛你
Japanese Name: 君を愛しています
Genre: Romance, Family
Episodes: 16
Broadcast Place: South Korea
Broadcast network: SBS Plus
Broadcast period: 16 April 2012 – 5 June 2012
Language: Korean
Air time: Monday and Tuesday 11:00 PM
Preceded By: –
Followed By: –
Plot Summary
The drama depicts the love story of four alienated elders who step into twilight years, and passionate story of youths.
Synopsis
Kim Man Suk worked at a mid-size construction company for his entire life. He wasn't very good to his wife and she passed away suddenly one day. Since than, he has delivered milk for 7 years and trying to atone for his poor treatment to his wife. Kim Man Suk then meets Song Yi Bun, who recycles used paper for a living, and falls in love with her.
Meanwhile, Jung Min Chae works as a civil service officer instead of serving out his military enlistment requirement. He is smart guy and attended Seoul University, where he developed a game and became a legendary figure in the gaming industry, but, because of the game he created, someone died. Afterwards, he traveled all over the world. Now, while he works as a civil service officer, he meets social worker Kim Yeon Ah who is Kim Man Suk's granddaughter. They soon fall in love.
Cast
Lee Soon Jae (이순재) as Kim Man Suk (김만석)
Jung Young Sook (정영숙) as Song Yi Bun (송이뿐)
Kim Ho Young (김호영) as Jang Goon Bong (장군봉)
Kim Hyung Jun (김형준) as Jung Min Chae (정민채)
Jo Yang Ja (조양자) as Jo Soon Yi (조순이)
Kim Yoon Seo (김윤서) as Kim Yeon Ah (김연아)
Kim Ye Ryeong (김예령) as Lee Yoon Hee (이윤희)
Jeong In Gi (정인기) as Kim In Seok (김인석)
Kim Tae Hwan (김태환) as Min Sae Ui (민새얼)
Kim Kwang Kyu (김광규) as Ko Seok Ho (고석호)
Park Jun Myun (박준면) as Maeng Shin Hye (맹신혜)
Wi Yang Ho (위양호) as Lee Joon Beom (이준범)
Woo Sang Jun (우상전) as Lee Pan Sool (이판술)
Shin Soo Yun (신수연) as Hwang Min Ji (황민지)
Production Credits
Director: Yoon Yoo Hae (윤류해)
Screenwriter: Kim Myung Ho (김명호)
Trivia
"Late Blossom" is adapted on a popular Internet comic drew by Kang Pool. The web cartoon, I Love You, was published from April 8, 2007 till September 10, 2007 via web portal Daum.
The same-name musical based on the comic was staged from January 2, 2010 to January 31, 2012.
The same-name movie was premiered on February 17, 2011, and lead actor in the movie also starring in the TV series.
Official Site
Official Photo Gallery
Late Blossom Trailers: Teaser Trailer 1 | Teaser Trailer 2
Watch online with English subtitle (not yet available).
Watch online with Chinese subtitle youku.com or tudou.com.
Photo Gallery