On January 9th, 2012, Lee Dong Wook expressed his feeling on his me2day account, saying that "The legendary catcher of New Work Yankees of U.S. Major League Baseball has such a word, 'It ain't over till it's over.' Now just past the first week. I will work hard for the audience who loves Wild Romance." And at the same time he uploaded a photo.
The photo published by Lee Dong Wook is a still of Lee Dong Wook from KBS2 Wednesday and Thursday drama series Wild Romance. In the drama, Lee Dong Wook is playing the role of baseball player Park Moo Yul who is the main shortstop and also a trouble maker for the team.
Lee Dong Wook continued, "Thank you to fans who are even more anxious than I am. But I do not therefore neglect or demoralized ~ The filming scene is very happy and fun ~ Do not worry!! Acting here today itself is very happy, except that it's getting colder and colder, keke."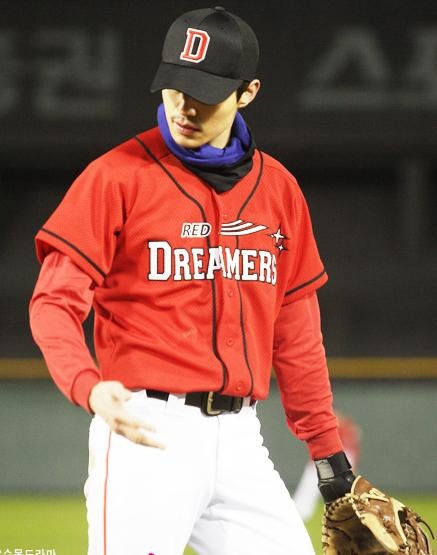 The post published by Lee Dong Wook is about ratings of Wild Romance, which cannot escaped fierce battle. According to AGB Nielson Media Research company, the first episode of Wild Romance that debuted on January 4th, 2012 rated 7.1% nationally, while the second episode aired on January 5th, 2012 rated 6.7%. It's relatively low ratings when comparing with MBC's The Moon that Embraces the Sun and SBS's Take Care of Us, Captain broadcast at the same time slot.
After seeing Lee Dong Wook's writing, netizens expressed their opinions, "Fans more worried about faltered star,"Lee Si Young and Lee Dong Wook shows good acting for ratings to go up," "Lee Dong Wook is right to say that it's not over until the end," "Funny story, so no need to worry about ratings," "The atmosphere of drama is good so ratings will also go up quickly," and etc.
via Newsen