On January 4th, 2012, the three terrestrial broadcasters have premiered their new Wednesday and Thursday drama series, where KBS2 features Wild Romance. Wild Romance is a romantic comedy drama which tells the story that happens when bodyguard Yoo Eun Jae (Lee Si Young) who was a judo player is protecting the energetic baseball player Park Moo Yul (Lee Dong Wook). Joongang Sports was interviewing Lee Shi Young and Lee Dong.
– Describe specifically the role you're acting!
Lee Dong Wook: "The role I am playing is just like the tile of the drama, brutal personality and energetic. When comparing with the role of previous drama SBS's Scent of a Woman, this is a very different character, a 180-degree turn. Hope that the audience can like this."
Lee Si Young: "I play the role of a bodyguard who is even more violent and more energetic than senior Lee Dong Wook. The character looks like this from the outside, but when read on carefully, it's a very likable, very cute character."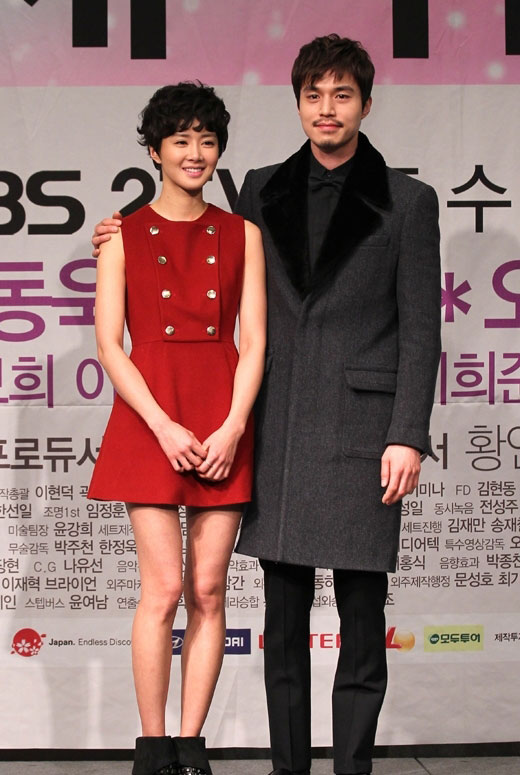 – If comparing the role you're playing and your own personality, how would you evaluate it?
Lee Dong Wook: "I feel that the character of Park Mu Yeol is very unfamiliar. My actual personality does not so rude, has a little introversion. Of course to a certain extent there is some similarities, but there is more differences."
Lee Si Young: "Perhaps because I often show the image of exercising recently, so a lot of people asks me 'is this your true way?' Of course there are some similarities, but there is also a lot that is different. My personality is not a rude or aimlessly charging."
– This time Lee Si Young cuts short the hair too!
Lee Si Young: "I just finished previous drama KBS2 drama Poseidon 2 to 3 months ago, the resting time is not long, so even if only in appearance, I hope to show some changes, avoiding identical image. While acting as bodyguard, there is also boyish side, so I boldly cut the hair. So far there is no people who says I am ugly because of changing hairstyle, very lucky."
– How's the atmosphere at the filming scene?
Lee Si Young: "It's very funny when shooting. When making a mistake, hope not to laugh because of feeling very sorry, but because the filming is very interesting, so I always laugh. Like this, the atmosphere on the shooting scene is very good."
– What's your first impression to each other?
Lee Dong Wook: "We first met in the martial arts school. At the time Lee Si Young is more petite than I expected and soft-hearted, so I was surprised. I strongly felt that she is good in sports."
Lee Si Young: "I have seen the La Dolce Vita starred by senior. After that, I think senior Lee Dong Wook is a person difficult to approach. Now when really meet him, I feel that not only he know how to take care of people, but the personality is also very good. During his improvisation it's very funny, so I makes a lot of mistakes. He is the most interesting senior I have ever met. Really lucky."
– I heard that Lee Si Young will display appearance that is surprising?
Lee Dong Wook: "Lee Si Young is practicing the performance very seriously, she writes on the script all the impromptu lines. She carefully prepares on how to do for different situations and scenes. She always wears headphones to shooting scene, I thought she is listening music before filming, turn up she recorded the script to listen. Seeing her hard work, I have a lot of motivation. Can cooperate with such a hardworking actress, my heart feels very at ease."
– What is the viewing point for this drama?
Lee Dong Wook: "The lines are meticulous, even when just looking at the dialog lines will also feel very interesting. Although can be seen as a simple romantic comedy drama, but drama is full of suspense. Each episode has a way to confuse the viewers. After which the audience will suddenly realize that 'ah ~ because of this, then just as.' The drama is interspersed with many interesting elements, so please looking forward to it."
via Joongang Sports