Versatile artist Lee Seung Gi and singer Jang Yoon Jung won at the 1st position for the throne of "most filial piety artist."
Recently eduwill.net website which provides certification examinations, credit banking system and professional education to certified agents, residential managers, civil servants, social welfare workers and others conducted a survey activities on 1058 members.
In the "most filial piety male artist," singer-actor Lee Seung Gi is winning the 1st in ranking with overwhelming support of 61.8% (654 votes). Versatile artist Lee Seung Gi is highly sought after for his clean and dignified appearance and manners, with an exemplary image. Song Joong Ki is at 2nd place with 16.3% (172 votes), followed by Jo In Sung with 10.9% (115 votes), Kang Dong Won with 8.2% (87 votes), Jang Geun Suk with 2.8% (30 votes) in 3rd to 5th places.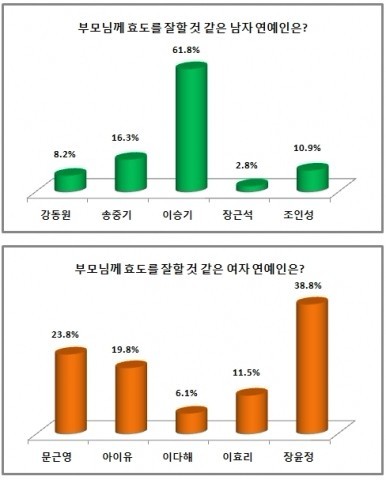 On the other hand, in "the most filial piety female artist", singer Jang Yoon Jung is the champion with 38.8% (410 votes), followed by Moon Geun Young with 23.8% (252 votes) at 2nd position. Then, they're followed by IU with 19.8% (209 votes), Lee Hyo Ri with 11.5% (122 votes), and Lee Da Hae with 6.1% (65 votes) in 3rd to 5th placing.