The scene of actress Lee Shi Young sat on the floor and ate lunch box together with the crews was made public.
The free and easy image of Lee Si Young who had fun together with production crews while eating gave rise to the illusion that she is a crew but not the actress in leading role.
In the scene made public, Eun Jae misunderstands the relationship of Moo Yul and Soo Young, and becomes a brief interlude on their Japan trip.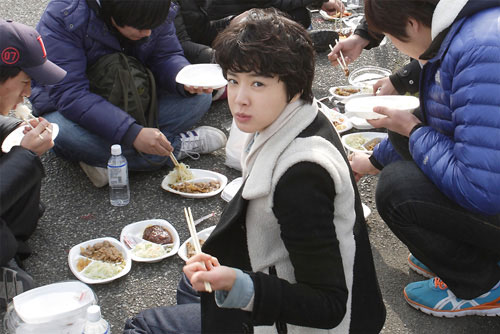 KBS2 drama Wild Romance is telling the sweet yet gloomy love story between rude man Park Moo Yul (Lee Dong Wook) and even ruder woman Yoon Eun Jae (Lee Si Young).
On the other hand, the perfect acting by Lee Dong Wook and Lee Si Young, and great plot of Wild Romance have earned praises. Wild Romance airs every Wednesday and Thusrday on 9:55 pm.
via Chosun