Shi-Ying, "Dong-Xu Li, is an actor I met the most interesting one."
The actors in leading role of KBS 2TV's Wednesday and Thursday drama series Wild Romance, Lee Dong Wook and Lee Si Young, were expressing satisfaction for the partner.
Lee Dong Wook and Lee Si Young were attending the Wild Romance production press conference held on January 2nd, 2012. Wild Romance is a romantic drama that tells the story of Yoo Eun Jae who loves baseball the most meets with baseball player Park Moo Yool who belongs to the baseball team she hated most, then unwillingly resigns to become his bodyguard, and love slowly growing.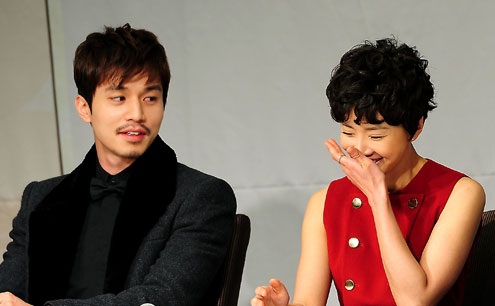 Lee Dong Wook said, "Actually in when I saw Lee Si Young for the first time, I was shocked as she was thinner and smaller than in my imagination. I don't know if she is suitable for the bodyguard character who likes sports and lively, but I am surprised that she is very hardworking," strongly praising Lee Si Young.
Lee Si Young said, "Lee Dong Wook is a good partner, his straightforward personality is very similar with his character Moo Yool in the drama. Lee Dong Wook is the most interesting one among the partners I have met."
Wild Romance premiers at 9:55 PM on January 4, 2012.
via joynews24