From Vietnamese bride who fell in love with making Korean traditional cakes to genuine girl who made bread, Lee Young Ah is now transformed into female prosecutor. She said, "The role of prosecutor is not easy to act."
Lee Young Ah is playing Yoon Jung In, a prosecutor in special crime group, in OCN cable channel's Vampire Prosecutor. Her new image of cute yet strong female prosecutor is attracting people's attention.
"Vampire Prosecutor" is a drama about South Korea's prosecutor Min Tae Yeon who suddenly became a vampire on the faithful day. He hides his real identity, and uses the special ability of vampire to solve a variety of crimes in the society. It's the first vampire criminal investigation themed domestic drama. The drama becomes topic of discussion with its content that somewhat unfamiliar in Korea and the increasing ratings that rank top on the time slot.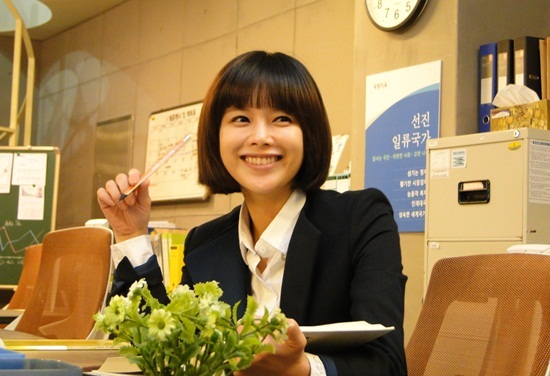 On October 28th, 2011, Lee Young Ah who was interviewed on the filming scene at Pocheon of Gyeonggi province said, In actual, the real cases of the incidents exist," and she took out a book on forensic medicine from the desk at the filming venue. It's reported that she had carefully studied carefully the book that contains photos of the victims.
Vietnamese, cake, bread making, although she who is as good as expert in acting the necessary part of the roles said that the role of prosecutor is not easy, but because of it's by Lee Young Ah so it makes people looks forward to.
Has no burden on vampire's content.
May be due to distinctive content so it attracts attention. After read and putting down the script, will want to read it again, read it continuously. Because not so understand the story of the plot, if it's too long then it may be a burden. So it only has 12 episodes and I was thinking just give it a try.
Do you have any burden playing female prosecutor for the first time?
No longer plan to act in the role of prosecutor again. Have always been acting in role of mid-20 youth, suddenly play a mature adult character, has a little worry. But Yun Jung Hoon and director said just act with my usual personality is good enough. I was casted for the role because although it's a calm prosecutor but also hope to have bright and warm look. It's a character designed basically for me.
What the difference in this role?
In "Golden Bride" I had to make cake so I learned some aspects of it, and through "Bread, Love and Dreams" I understands about bread. This time I studied a lot of books related to the cases. Although it's real cases but because of broadcast they cannot be fully shown. The pug incident is actually more cruel, but cannot be shown. I know something new, feel intrigued and also scared. Is very interesting.
Then what about the traditional melo-acting of Lee Young Ah?
Does not seem appropriate. Did not have the idea of must transform the ​​acting. Thought of learning something going into this work. When selecting the work, I look at the cooperating actors and senior actors. Otherwise look at the director and writer. Always observe as such to see if can learn something when work together.
In this drama, is there anybody that inspires you and learns from?
Senior Lee Won Jong. Because of different method and style of acting, we always jokingly said "20 years of acting strength." It's hard for my words, gestures, reactions and lines to naturally match his. Lee Won Jong is natural and even very mature. Although senior Jang Hyun Sung is not playing role with such character, it's hard to see, but is still very excellent. Both of them also shot SBS's Warrior Baek Dong-soo simultaneously, very curious how they can change back and forth between different roles.
Is there any blueprint to refer to when preparing for the role of female prosecutor?
Initially the setting is not prosecutor but a defense lawyer. Initially thought of is it somewhat similar to Reese Witherspoon in "Legally Blonde." Think there is a sense and feel, and there is process to change into calm expert. Suddenly the role changed, although want to follow to become like a prosecutor, but because I had not acted in the role before, so it is also difficult to digest the role. I just get into the role while thinking that there would be such this and that kind of prosecutor.
How's your cooperation with Yun Jung Hoon who plays the vampire prosecutor?
It looks like not so good if the actors get too close (laugh). Our drama is not a sitcom, but it's very funny. Yung Jung Hoon is good in joking. When close to him, I can laugh just by looking at him. The atmosphere is really pleasant and good.
Is satisfied with the production environment of 5 days a week, but…
Filming an episode a week has more sense of burden. Yun Jung Hoon also has "TopGear Korea" show, while I have "Comedy Big League" program on Tuesday, so have to make the slot available. Including other program's filming, it's just like have two off days in a week. A little feel like office worker. When filming "Bread, Love and Dreams," it was always busy, so there is sense of emptiness after it ended, this time may be such feeling will be reduced.
What if there is difficulty during shooting?
It's hard not to laugh. Haha. Actually it's difficult to remember names. Every time the persons who appear in the drama are different, and characters in the events intertwined. Because of this it is not easy to memorize. Every time takes up the script, have to remember the unknown lines. This seems a bit difficult. When shooting, often NG because the actors make mistake on the new character's name.
How do you feel about be the MC of "Comedy Big League?"
It's still very difficult to be MC now. But it's very interesting to see their world whom have yet to success. I have understood that comedians have their own difficulty. Talented art also much depends on opportunity. I never participated in any variety show like "Family Outing," I want to participate in such programs. Last year I participated in Happy Together, became nervous and couldn't say a word. But in this program there is a lot of funny artists, so my words have increased. There there are impressions of stars who join the filming.
I heard you like animals?
A lot of people has known that. There is also proposal to be MC for animal show. And there was netizens who said, "Cannot keep animals at home, can give to sister Lee Young Ah?" "Can exchange puppy?" If there is a chance, I want to play the role of veterinarian.
What is there is a sequel to Vampire Prosecutor?
If all the current actors joins the sequel that may be it will continue to play, Lee Won Jong and Yun Jung Hoon, if one of them is not around that looks like it will not continue. May be I should try to challenge the role of sexy female prosecutor in the next season (laugh).
What is the viewing point of Vampire Prosecutor?
Think of Tae Yeon and Jung In are not the hero in the drama, but the unknown people who created every new event is the true protagonist. Appreciate everybody who produces the drama. The actual existence of legal content. Adapt and expand the real events. It's good if can seriously watch the new story that emerged every time.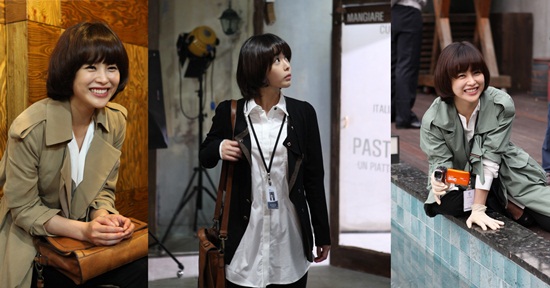 via StarNews