Your Rating
Channel A's drama Heaven's Garden has released its first OST (original soundtrack) on December 23rd, 2011 by publisher Loen Entertainment. The Heaven's Garden OST part 1 has the song title of Let Me Leave (떠나가줘요). The song is sang by Kim Jae Suk, a member of Wanted (원티드) pop group.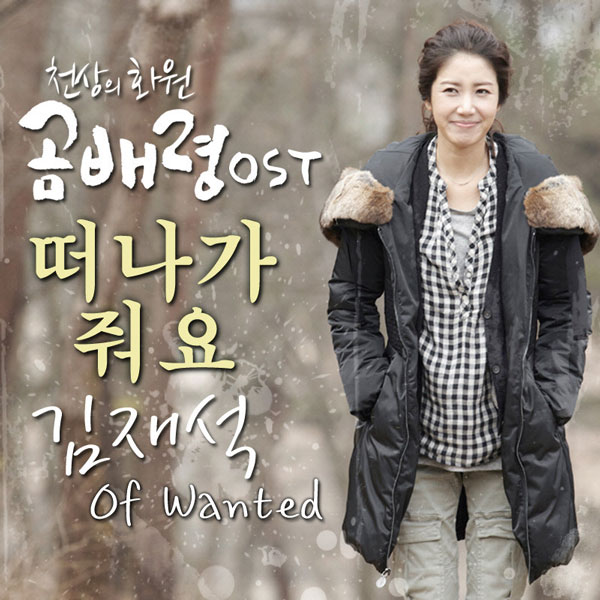 Heaven's Garden (천상의 화원 곰배령) OST Part 1 Track List
Let Me Leave (떠나가줘요) – Kim Jae Suk
Let Me Leave (떠나가줘요) – Instrumental
Listen to Let Me Leave at YouTube.
Let Me Leave (떠나가줘요) Lyric (with Romanization Pronunciation)
가슴이 아파도 참아내 볼게요
gaseumi apado chamanae bolgeyo
가녀린 내 사랑 이대로 두고 가요.
ganyeorin nae sarang idaero dugo gayo.
나에겐 너무 큰 너란 사람
naegen neomu keun neoran saram
추억만 남기고 떠나가요
chueongman namgigo tteonagayo
우리사랑 여기까진가 봐요
urisarang yeogikkajinga bwayo
이대로 널 보내야 하나 봐요
idaero neol bonaeya hana bwayo
못난 날 두고서 멀리 떠나가줘요
motnan nal dugoseo meolli tteonagajwoyo
좋은 사람 만나길 바래요.
joheun saram mannagil baraeyo.
기억의 끝에서 남은 건 사진뿐
gieogui kkeuteseo nameun geon sajinppun
눈물로 지워진 행복한 추억들이
nunmullo jiwojin haengbokhan chueokdeuri
가슴에 맺혀서 울어봐도
gaseume maechyeoseo ureobwado
소용이 없어요 나 아파요
soyongi eobseoyo na apayo
우리사랑 여기까진가 봐요
urisarang yeogikkajinga bwayo
이대로 널 보내야 하나 봐요
idaero neol bonaeya hana bwayo
못난 날 두고서 멀리 떠나가줘요
motnan nal dugoseo meolli tteonagajwoyo
다시는 오지 마요
dasineun oji mayo
어떡해 나 어떡해요
eotteokhae na eotteokhaeyo
평생 그대를 잊지 못하고
pyeongsaeng geudaereul itji motago
보고 싶어 눈물 날 때
bogo sipeo nunmul nal ttae
나 어떡하죠 그댈 지울 수 없어
na eotteokhajyo geudael jiul su eobseo
희미해진 가슴 속의 기억도
huimihaejin gaseum sogui gieokdo
흘러버린 눈물 속의 추억도
heulleobeorin nunmul sogui chueokdo
모두 남겨두고 멀리 떠나가세요
modu namgyeodugo meolli tteonagaseyo
행복만 가득하길 바래요
haengbongman gadeukhagil baraeyo#039;s Garden OST Part 1″ title="heaven-garden-ost-part-1″ width="600″ height="600″ class="alignnone size-full wp-image-19577″ /