KBS 2TV Monday and Tuesday drama series Love Rain starring Jang Geun Suk and SNSD member Yoona s criticized by the audience after broadcast began due to boring plot, the audience ratings have dropped to single digit, and the audience expects the breakthrough in future content.
On the episode 2 of Love Rain broadcast on March 27th, 2012, although In Ha (played by Jang Geun Suk) has learned that Yoon Hee (played by Yoona) knew his heart, but he has to lie for the sake of good friend Lee Dong Wook (played by Kim Si Hoo). Yoon Hee saw the sketch of her drew by In Ha, understood his heart for her, because In Ha who is good in painting landscape used to say that he will only draw sketch for person he loved, but In Ha denies, "Hope you don't misunderstand, the painting has not special meaning, to me, it's just a landscape, just that there was you inside the scenery when I drew. And also my hand has recovered, I hope you do not deliver meal to me, others may misunderstand if they see it, in particular, I do not want to let Dong Wook misunderstand, he is a friend I cherish."
Although Yoon He has felt the heart of In Ha, but upon hearing he saying so, she said, "I understood, don't worry, I didn't misunderstand." Then, she turns and left. In the end, Yoon Hee accepts Dong Wook, and In Ha can only look at them dating.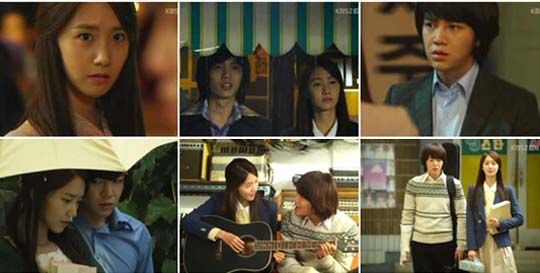 Episode 2 of Love Rain also broadcasts the content of celebration of university anniversary in the 1970s. The look of In Ha, Dong Wook and Chang Mo (played by Seo In Guk) play the guitar and sing song, or the game of using water ball to hit people, let not a few middle-aged fans to reminiscent of own student era. The aesthetic video production unique to director Yoon Seok Ho, the ballad "She and Me" by Lee Chang Hee combined perfectly, making the drama fascinating.
However, although Love Rain is starring popular stars, and directed by famous director, but still could not escape the critical eyes of audience. Since premiere, there has been viewers who point out that the story is too boring, making the ratings kept dropping. The drama will change its vision to year 2012 from episode 5. Perhaps the love in 1970s era was so dull and boring, making it difficult to capture the appetite of young audience.
The contemporary story will be staged from the episode 5, describing the love story of Seo Joon (played by Jang Geun Suk) and Jung Ha Na (played Yoona), and Seo In Ha (played Jung Jin Young) and Kim Yoon Hee (played Lee Mi SooK) simultaneously, and it's also the important period for the drama on whether it can get rid of the 'boring' evaluation.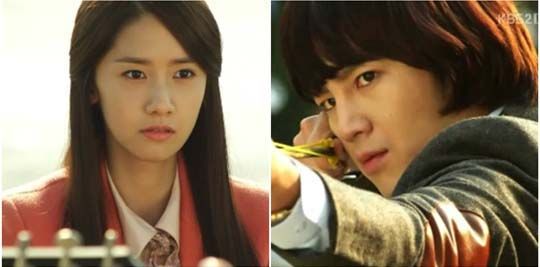 The main characteristic of director Yoon Suk Ho is beautiful visual effects and music, and this is fully reflected in episode 1 and 2. But how could the drama get rid of the 'dull, boring,' the key is how the director describes the love of middle-aged and instant love of modern society. In short, whether he can be create another glory of "Winter Sonata," "Endless Love," is under the spotlight.
via TVDaily