At the end of episode 4 of South Korea's KBS 2TV drama Love Rain broadcast in April 3rd, 2012, the 2012 love story was made public, indicating that the instant love of modern era is about to stage.
Debut of the new characters and roles
In the scenes for 2012, a lot of new characters and roles debut. First up is the senior whom Ha Na (played by SNSD member Yoona) has a crush on, Han Tae Sung (played by Kim Young Kwang). He will stage a four-corner romance with Jang Geun Suk, Yoona, and Kim Si Hoon.
In addition, the rookie actress Park Se Young who left a deep impression is playing the role of fashion model Lee Mi Hoo, the younger sister of Lee Sun Ho (played by Kim Si Hoo) who is secretly in love with Seo Joon (played by Jang Geun Suk).
With the passage of time, the roles in modern times for Baek Hye Jung is played by Yoo Hye Ri, Kim Chang Mo is played by Park Ji Il, Lee Dong Wook is played by Kwon In Ha, while Oh Seung Yoon and Lee Chan Ho are playing the role of assistant of Seo Joon, Jo Soo and Jang Soo.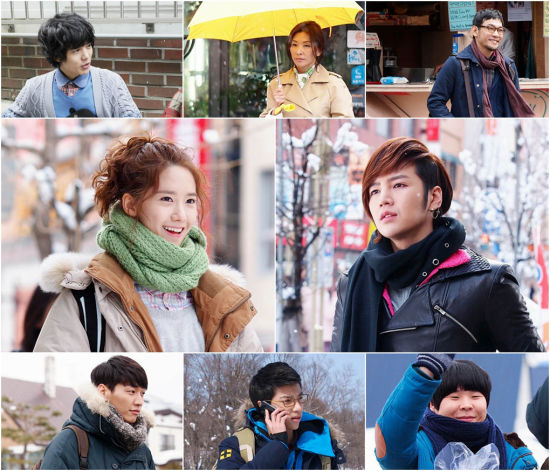 The sparkling romance of Jang Geun Suk and Yoona
The innocent love of Jang Geun Suk and Yoona touched the hearts of many viewers. They come into 2012, and have a complete change of image to stage the love of modern times. How could the relationship of the son of Seo In Ha (played Jung Jin Young), the poison tongue photographer Seo Joon, and the daughter of Kim Yoon He (played by Lee Mi Sook), the optimist Jung Ha Na will progress has attracted the vision of broad audience.
The romance of Jung Jin Young and Lee Mi Sook
In Ha and Yoon He reunite after 32 years, the love story of the two people who has become middle-aged also attracts the attention of audience. The highly anticipated first challenge of Jung Jin Young in a romantic drama partnering with romantic queen Lee Mi Sook, have raised the expectation.
The filmmaker of Love Rain said, "The scene of 2012 will begin in Hokkaido, Japan. the new scene will be different from the background of the 1970s, it will quickly cut to the main theme of romantic love of hero and heroine.
via TVDaily