"This is not made with an original stone? From a distance, looks like a big one?"
This was the question raised by people who saw the 0.5-carat diamond with edge surrounded by small diamonds located in front of 3rd floor Gembros exhibition hall of Seoul COEX Samseong-dong on April 19th, 2012. From a distance, the 0.5-carat diamond is bigger by 1.5 times, which is attributed to "invisible mosaic" that fills in many small gemstones to make it look like a big precious stone.
Although the gemstone itself is beautiful and precious, but the value of gem with a cause is greater than its beauty. Because of been used by Bae Yong Joon to give to Choi Ji Woo as a gift in 2002 drama series "Winter Sonata, the "Polaris" necklace was extremely popular in Japan, and continues to sell until now. The necklace that Mucha, which created the Polaris, sponsored in TV series "Love Rain" starring Jang Geun Suk is very popular. Recently on April 18th, 2012, export contract was signed with Japanese company which worth $20 billion South Korean won (about $17.56 US dollar).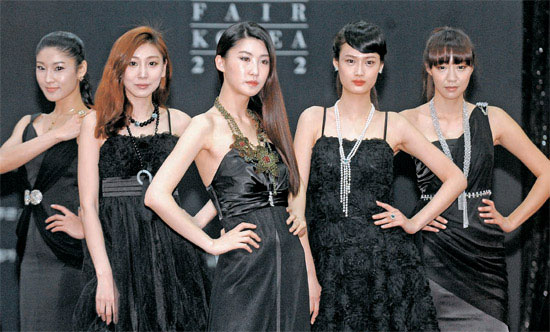 At the "2012 Korean Jewelry Expo" held from April 19 to April 22 in 2012 at COEX, the gemstones with unique design and technology, and have various causes are pooled together, and 240 domestic jewelry enterprises attended. According to the Korea International Trade Association, last year, the export of jewelery products was valued at about $200 million US dollars (about $228 billion South Korean won). The exports to Japan, Thailand and other Southeast Asian countries where Korean wave (Hallyu) are prevalent increased by more than 60%.
The protagonist of the "Korean jewelry" trend is Mucha. In the last 10 years, it has sponsored the "Winter Sonata", "You're Beautiful", "My Girlfriend is a Nine-Tailed Fox" and other exported famous dramas. The secret of Mucha's success is by making use of unique design with Korean characteristics. Mucha operates a Design and Research Institute in a building Cheongdam-dong of Seoul with just 7 chief designers. The company's CEO who is also executive director and former jewelry designer, Kim Jung Soo, is solely responsible for the design. He modeled against Crown of Silla to produce golden crown that has Korean consonants such as ㄱ, ㄷ, ㅂ, winning the 2009 Korea Design Award and President's Award. CEO Kim personally designs the product. The director of Mucha Park Kwang Yik said, "We strive to develop and design, trying to fit in the color of Korea."
The invisible mosaic that is more famous abroad is the technology of domestic jewelry production enterprise Gembros. As the inlay of precious stones is not fine, and the small gems will fall when the shelf made of gold tilts slightly, so invisible mosaic requires highly challenging casting and inlay technology. So Gembros has no contractor, and is operating the foundry and gemstones inlay room directly but within the company. They're popular at home and abroad. Gembros' managing director Kim Hyung Yeol said, "30% of orders were from Middle East's Dubai and Turkey, China and other countries and regions."
In addition to domestic enterprises, more than 60 jewelry brands from 17 countries participated in this exhibition. Korea GIA (Gemological Institute of America) specially invited the jewelry business, "Karen", to show the the highest grade 64-carat emerald gemstone necklace, rose-cutting diamond necklaces are other valuable products that are made in Columbia and cannot be bought domestically due to individual consumption tax. In the exhibition, also can see the color diamond jewelry that is popular abroad.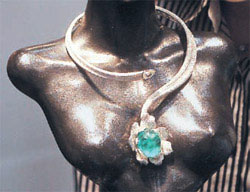 64-carat emerald diamond necklace
via Joongang Daily