The first OST (original soundtrack) of MBN's drama series What's Up is released on December 3rd, 2011. The title of What's Up OST part 1 is Lunatic. The song is sang by singer-actor who is also starring in the drama himself, Kang Dae Sung (대성), a member of Big Bang (빅뱅), a K-Pop boy band in South Korea.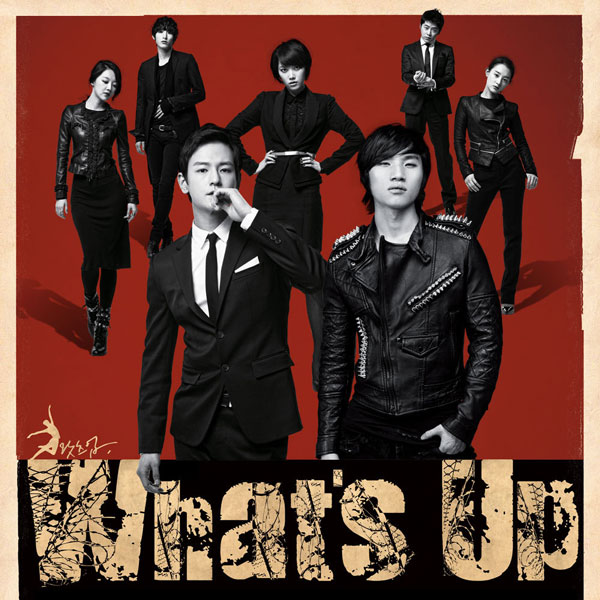 What's Up (왓츠업) OST Part 1 Track List
Lunatic – Daesung
Listen to Lunatic at YouTube or watch the Lunatic MV at YouTube.
Lunatic Lyric (with Phonetic Romanization)
달빛에 어둠이 그칠때
dalbich-e eodum-i geuchilttae
그래 난 널 부르고 있네
geulae nan neol buleugo issne
그래 난 처음부터 혼자였어
geulae nan cheoeumbuteo honjayeoss-eo
그 정도는 난 이미 알고 있어
geu jeongdoneun nan imi algo iss-eo
뭐 괜찮지 그게 누구든지
mwo gwaenchanhji geuge nugudeunji
상관없지 모두 다 마찬가지
sang-gwan-eobsji modu da machangaji
하지만 가끔 바라는 맘
hajiman gakkeum balaneun mam
내 맘을 봐주는 그 누구 단 한 사람
nae mam-eul bwajuneun geu nugu dan han salam
그게 너였으면 그래 주었으면 그래 난 그래 난 그래 난
geuge neoyeoss-eumyeon geulae jueoss-eumyeon geulae nan geulae nan geulae nan
차갑게 식어진 두 눈에
chagabge sig-eojin du nun-e
오직 너를 꿈꾸는 마리오네트
ojig neoleul kkumkkuneun malioneteu
눈물이 흐르네
nunmul-i heuleune
뜨겁게
tteugeobge
(그래 난 첨부터 혼자였어)
(geulae nan cheombuteo honjayeoss-eo)
더욱 더 차갑게
deoug deo chagabge
(하지만 가끔 바라는 맘 내 맘을 봐주는 그 누구 단 한사람)
(hajiman gakkeum balaneun mam nae mam-eul bwajuneun geu nugu dan hansalam)
뜨겁게
tteugeobge
그래 난 그래 난 그래 난
geulae nan geulae nan geulae nan
차갑게 식어진 두 눈에
chagabge sig-eojin du nun-e
오직 너를 꿈꾸는 마리오네트
ojig neoleul kkumkkuneun malioneteu
눈물이 흐르네
nunmul-i heuleune
나를 봐 나를 봐 바라봐줘
naleul bwa naleul bwa balabwajwo
누구나 누구나 누구라도
nuguna nuguna nugulado
외로워 두려워 언제라도
oelowo dulyeowo eonjelado
내가 원하던 그대로 바로 너
naega wonhadeon geudaelo balo neo
다가와 다가와 나에게로
dagawa dagawa na-egelo
이런 날 편히 감싸 안아줘
ileon nal pyeonhi gamssa an-ajwo
다가와 다가와 다가와 다가와
dagawa dagawa dagawa dagawa
나에게
na-ege
식어진 두눈에
sig-eojin dunun-e
오직 너를 꿈꾸는 마리오네트
ojig neoleul kkumkkuneun malioneteu
눈물이 흐르네
nunmul-i heuleune
Lunatic Lyric English Translation
When the darkness ends by the moonlight
Yes, I'm calling out for you
Yes, I was alone from the beginning
I already knew about it
It does not matter, whomever it is
It's the same for everybody
But sometimes I am wishing for
That there is a person who look out for my heart, and you're the only person
If that person is you, and if you willing
Yes me, yes me, yes me
My two eyes that gradually gone cold
Only a marionette that dreaming about you
Shed tears
Hotly
(Yes, I was alone from the beginning)
Even colder
(But sometimes I am wishing for there a person who look out for my heart, and you're the only person)
Hotly
Yes me, yes me, yes me
My two eyes that gradually gone cold
Only a marionette that dreaming about you
Shed tears
Look at me, look at me, please look at me
Anyone, anyone, anyone is all good
I'm lonely, I'm scared, all the time
The person I want is that you
Come closer, closer, to me
Relaxedly hug me in your arms
Come closer, come closer, come closer, come closer
To me
My two eyes that gradually gone cold
Only a marionette that dreaming about you
Shed tears