Your Rating
In episode 19 of Brain, Lee Kang Hoon (played by Shin Ha Kyun) sang sincerely a song to Yoon Ji Hye (played by Choi Jung Won) after he felt heartache after discovering that she is exhausted due to overloading of jobs assigned by him. After singing the song, Shin Ha Kyun who recalls many twists and turns and Choi Jung Won who remembers the past kiss while shedding tears.
The song that Shin Ha Kyun sang is Melancholy Letter (우울한 편지), which also been translated as Sad Letter, Depressed Letter or Gloomy Letter. The Melancholy Letter was originally sang by Yoo Jae Ha (유재하) and was recorded in his album Because I Love You Vol. 1 (1집 사랑하기 때문에) released on 1987. The song has also been used as the OST for 2003 movie, Memories of Murder (살인의 추억). The song has since been remade and sang by many other singers.
Due to the singing scene, netizens has called Shin Ha Kyun as the serenade of Choi Jung Won. Shin Ha Kyun does not sang the complete song in the drama though, as he repetitively sang the verse of lyric which contains the name of Even if JiHyelobda (지혜롭다 해도), at the forth sentence of the forth paragraph.
Listen to Melancholy Letter (우울한 편지) at YouTube.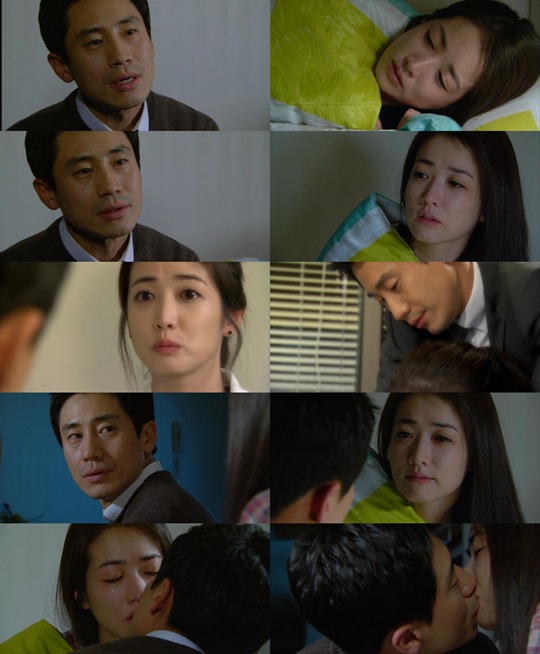 Melancholy Letter (우울한 편지) Lyric
일부러 그랬는지 잊어 버렸는지
가방 안 깊숙히 넣어 두었다가
헤어지려고 할 때 그제서야
내게 주려고 쓴 편질 꺼냈네
집으로 돌아와서 천천히 펴 보니
예쁜 종이 위에 써 내려간 글씨
한 줄 한 줄 또 한 줄 새기면서
나의 거짓 없는 마음을 띄웠네
나를 바라볼 때 눈물짓나요
마주친 두 눈이 눈물겹나요
그럼 아무 말도 필요 없이 서로를 믿어요
어리숙하다 해도
나약하다 해도
강인하다 해도
지혜롭다 해도
그대는 아는 가요 아는 가요
내겐 아무 관계 없다는 것을
우울한 편지는 이젠
Melancholy Letter (우울한 편지) Lyric Romanization
ilbureo keurae-nneunji ijeo beoryeo-nneunji
kabang an gipsukhi neoheo du-eot-da-ga
heyeojiryeogo hal ttae keujeseoya
nae-ge juryeogo sseun pyeonjil kkeonae-nne
jibeuro do-rawahseo cheon-cheonhi pyeo boni
yeppeun jon-gi wiie sseo naeryeo-gan geul-sshi
han jul han jul tto han jul saegimyeonseo
naye geojis eom-neun ma-eumeul ttyiwo-nne
nareul parabol ttae nun-mul-jinnayo
majuchin du nuni nun-mul-kyeomnayo
keureom amu maldo pilyo eobshi seororeul mideoyo
eorisukhada haedo
nayakhada haedo
kanginhada haedo
jihyeropda haedo
keudae-neun aneun gayo aneun gayo
nae-gen amu kwahnkye eopt-daneun geo-seul
u-urhan pyeonjineun ijen
Melancholy Letter (우울한 편지) Lyric English Translation
Not sure is it intentionally, or just been forgotten
Has been deeply hidden in the bag
Until the break up
I take up the letter you wrote to me
I come here and open it slowly
On the beautiful paper is your handwriting
Engraving with line by line by line
That made my sincere heart beats
Do you shed tears when looking at me?
Are two eyes that encountered overflow with tears?
Then there is no need for words, let's trust each other
Even if we're stupid
Even if we're weak
Even if we're strong
Even if we're wise
Do you know, do you know?
That it has nothing to do with me now?
The melancholy letter