The actress Jeon In Hwa of MBC "Feast of the Gods" expressed that she wants to cooperate with Sung Yuri again.
On May 15th, 2012, the harmonious filming set of Sung Yu Ri and Jeon In Hwa where they're playing the role of mother and daughter was made public. The scene was the 5th Arirang Master final competition held at Korea House in Chungmuro.
Although Sung Yuri and Jeon In Hwa shot under the hot sun for the whole day, but they still spent a plesant time with chit chat and laughter.
That day, the beautiful Sung Yuri and elegant Jeon In Hwa gave a illusion as if biological mother and daughter when they stood together.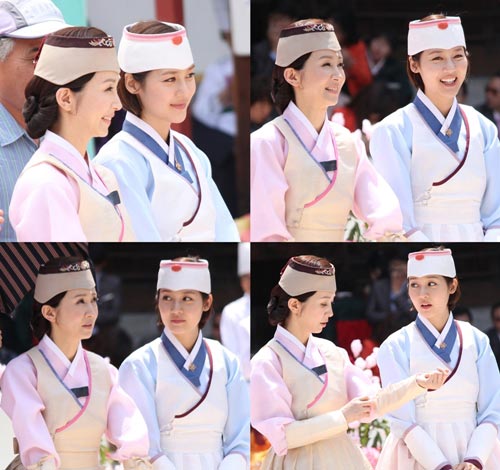 Jeon In Hwa praised Sung Yuri, "The beauty of Sung Yuri needs not to be expressed in words. She who has clear eyes has an upright personality that is more kind-hearted than any one else, and she also knows how to lead a team. She is a smart friend. If there is chance, hope to cooperate with her again in future."
Sung Yuri said, "Teacher Jeon In Hwa is like an angel descended from heaven. I learn a lot from cooperation with teacher, in many ways she is the model for my life."
via TVReport