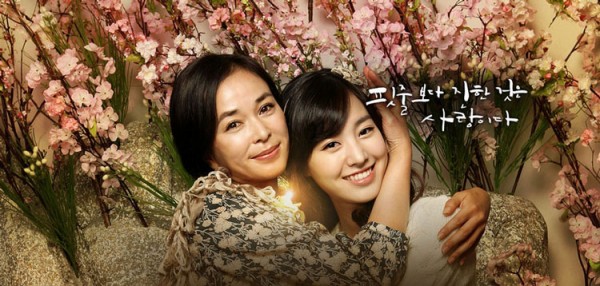 Drama Title: My Daughter, Flower
Korean Title: 내 딸 꽃님이
Romanization Pronunciation: Nae Ddal Kkot-nim-i / Nae Ttal Kkochnimi
Also Known As: My Daughter The Flower / Flower Daughter
Chinese Title: 我的女儿是花儿
Japanese Title: わが娘コンニム
Genre: Family, Romance
Episodes: 131
Broadcast Place: South Korea
Broadcast network: SBS
Broadcast period: 14 November 2011 – 18 May 2012
Language: Korean
Air time: Monday to Friday 7:20 PM
Preceded By: While You Were Sleeping
Followed By:
Plot Summary
A touching drama about a mother and daughter who are not even a single drop blood related.
Synopsis
Father is marrying again with stepmother Jang Soon-Ae (Jo Min-Su), but his daughter Yang Kkoch-Nim (Jin Se-Yun) who is a therapist at a rehabilitation hospital cannot accept the reality. While in the difficult process, the father passed away due to unfortunately accident, leaving two mother and daughter with no blood relation to get along. They console each other and walk to the rough world. At times they will haggle and quarrel like other mother and daughter, but when one of them is hurt, they will comfort the pain, console opposite side. They are mother and daughter yet are also friend, is also the only relative in the world.
Cast
Jin Se Yun (진세연) as Yang Kkot Nim (양꽃님)
Jo Min Soo (조민수) as Jang Soon Ae (장순애)
Park Sang Won (박상원) as Goo Jae Ho (구재호)
Lee Ji Hoon (이지훈) as Eun Chae Wan (은채완)
Choi Jin Hyuk (최진혁) as Goo Sang Hyuk (구상혁)
Son Eun Seo (손은서) as Eun Chae Kyung (은채경)
Baek Jong Min (백종민) as Goo Joon Hyuk (구준혁)
Kim Seung Hwan (김승환) as Joo Yong Pil (주용필)
Oh Young Shil (오영실) as Oh Mi Sook (오미숙)
Kim Bo Mi (김보미) as Joo Hong Dan (주홍단)
Sun Woo Jae Duk (선우재덕) as Yang Soo Chul (양수철)
Yoon So Jung (윤소정) as Moon Jung Ok (문정옥)
Jung Joo Eun (정주은) as Yoon Hye Jin (윤혜진)
Jung Kyu Soo (정규수) as Eun Chun Man (은천만)
Lee Jong Nam (이종남) as Heo Young Ae (허영애)
Bae Noo Ri (배누리) as Nal Ti-nyeo (날티녀)
Lee Yoo Ri (이유리) – Cameo special appearance
Production Credits
Director: Park Young Soo (박영수)
Screenwriter: Park Ye Kyung (박예경)
Official Site
Office Photo Gallery
Watch online with English subtitle (not yet available).
Watch online with Chinese subtitle at letv.com, tudou.com, xunlei.com, iqiyi.com and youku.com.
News, Interview and Behind the Scene
Photo Gallery