The first theme song for Little Girl K (소녀K) is sang by the lead actress herself, Han Groo (한그루). The song title is My Turn and is released as Little Girl K Part 1.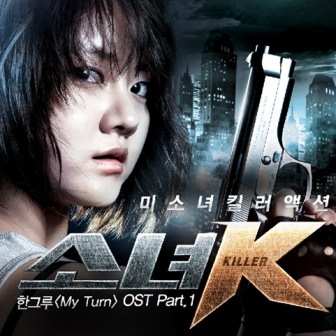 The Little Girl K OST Part 1 contains two tracks:
My Turn (by Han Groo)
My Turn (inst.)
My Turn MV

The music video of My Turn, which is also starred by Dong Jun of ZE-A.
Listen to both tracks in the Little Girl K OST Part 1 album at xiami.com.
My Turn by Han Groo (한그루) Lyric (Hangul with Romanization)
다다부따 너무 말이 많어
dadabutta nomu mari manheo
아까부터 자꾸 말이 많어
akkabuto jakku mari manheo
그러다가 내가 화낼지 몰라
geurodaga nega hwanelji molla
너때문에 내가 화날지 몰라
nottemune nega hwanalji molla
자꾸 바라보는 너의 시선이 (부담스러워)
jakku baraboneun noye sisoni (budamseurowo)
내게 주목하지 눈치 없이 (나뻐 People)
nege jumokhaji nunchi obsi (nappeo People)
자꾸 보지마라 날아간다 멀리
jakku bojimara naraganda molli
참다 날려버린 소심한 Revenge
chamda nallyoborin sosimhan Revenge
You 이제는 My Turn 마지막 My Turn
You ijeneun My Turn majimak My Turn
더이상 참아줄 수 없다고
doisang chamajul su opdago
You 강하게 My Turn 끝내기 My Turn
You ganghage My Turn kkeutnegi My Turn
더이상 망설일 필요 없어
doisang mangsoril piryo obso
아까부터 진짜 말이 많어
akkabuto jinjja mari mano
니가 뭔데 자꾸 말이 많어
niga mwonde jakku mari mano
그러다가 내가 화낼지 몰라
geurodaga nega hwanelji molla
너때문에 내가 미칠지 몰라
nottemune nega michilji molla
나를 바라보는 너의 시선이 (부담스러워)
nareul baraboneun noye sisoni (budamseurowo)
내게 용설빌지 염치 없이 (나뻐 People)
nege yongsolbilji yomchi obsi (nappo People)
자꾸 보지마라 날아간다 멀리
jakku bojimara naraganda meolli
참다 날려버린 소심한 Revenge
chamda nallyoborin sosimhan Revenge
You 이제는 My Turn 마지막 My Turn
You ijeneun My Turn majimak My Turn
더이상 참아줄 수 없다고
doisang chamajul su opdago
You 강하게 My Turn 끝내기 My Turn
You ganghage My Turn kkeutnegi My Turn
더이상 망설일 필요 없어
doisang mangsoril piryo obso
너와 나사이엔 싸운적이 더 많어
nowa nasaien ssaunjogi do mano
너와 나사이엔 싸운적이 더 많어
nowa nasaien ssaunjogi do mano
너와 나사이엔 싸운적이 더 많어
nowa nasaien ssaunjogi do mano
I just wanna be without you
You 이제는 My Turn 마지막 My Turn
You ijeneun My Turn majimak My Turn
더이상 참아줄 수 없다고
doisang chamajul su opdago
You 강하게 My Turn 끝내기 My Turn
You ganghage My Turn kkeutnegi My Turn
더이상 망설일 필요 없어
doisang mangsoril piryo obso
You 이제는 My Turn 마지막 My Turn
You ijeneun My Turn majimak My Turn
더이상 참아줄 수 없다고
doisang chamajul su opdago
You 강하게 My Turn 끝내기 My Turn
You ganghage My Turn kkeutnegi My Turn
더이상 망설일 필요 없어
doisang mangsoril piryo obso