Your Rating
Never (永不 or Yong Bu) is an insert sound for Office Girls OST (original soundtrack). "Never" is sang by Quack Wu Zhong Ming (吳忠明), who is also known as Big Q (大Q). The song is also recorded in the first personal album of Big Q Quack Wo, Dr. Q, that was released in October 21st 2011.
The lyric and music of the song of "Never" is written and composed by Big Q Quack Wu himself.
Big Q first sang the "Never" song on an concert, and on air wave, the "Never" debuted through Asia FM, both before the official release of the album.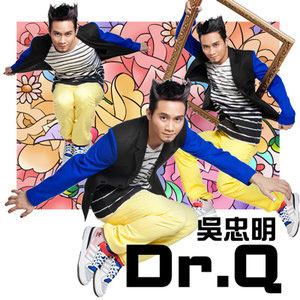 Watch Big Q Quack Wu sang the Never (永不) live:

At 46th Golden Bell Awards

At the concert of Yisa Yu Ke Wei.

First sang love by Big Q at Taipei's crime prevention carnival.
Listen to the song of Never (永不) when it was debuted on Asia FM:
Listen to the Never (永不) been promoted by Quack Wu on "Hito Star Recommendation" of HitFM:
Watch and listen to complete and clean capture of Never (永不) from the Office Girls drama:
Watch and listen to the official MV of Never (永不) shown on V channel:
Never (永不) Lyric
有種奇妙的氛圍 正偷偷引誘著我追隨
受傷小狗有你安慰 沉睡的心可否依偎
叫醒我的是你的香味 等待這心情的疲憊
這陷阱是你準備 掉下去不防備 Baby
I can never never never never true like u
and i'll never never never leave u
I can never never never never be so lost
cuz' i want u be mine baby
對你喜歡我藏不住 好想好想把你留住
踏著愉悅腳步 開心的國度
對你想念我止不住 一點一點把愛守住
愛的甜度 我們的幸福 he way I do i'd like to
never never never never leave u
突然對到眼的那瞬間 妳的緊張也跟著浮現
在你那張我熟悉的臉 嘴角上揚沒發現
傻傻走在你回家路線 等待會和你遇見
原來這身影是你的美 讓我毫無防備
I can never never never never true like u
and i'll never never never leave u
I can never never never never be so lost
cuz' i want u be mine baby
對你喜歡我藏不住 好想好想把你留住
踏著愉悅腳步 開心的國度
對你想念我止不住 一點一點把愛守住
愛的甜度 我們的幸福 he way I do i'd like to
對你喜歡我藏不住 好想好想把你留住
踏著愉悅腳步 開心的國度
對你想念我止不住 一點一點把愛守住
愛的甜度 我們的幸福 he way I do i'd like to
never never never never leave u
Never (永不) Lyric English Translation
There is a wonderful atmosphere, secretly luring me to follow
Injured dog has you to comfort, can the sleeping heart snuggles
What waking me up is your fragrance, the tiredness of waiting this feeling
This trap is prepared by you, do not guard again falling into it, baby
I can never never never never true like u
And I'll never never never leave u
I can never never never never be so lost
Cuz' I want u be mine baby
I cannot hide the liking of you, really want really want to keep you
Thread on cheerful steps, happy country
I cannot stop the missing towards you, hold onto love a little bit by bit
The sweetness of love, our happiness, he way I do I'd like to
Never never never never leave u
At the moment suddenly looking at each other, your nervous also followed to emerge
At your face that I am familiar with, does not discover any smile
Foolishly walk on your way of going home, waiting to meet you later
Turn out this figure is your beauty, let me defenseless
I can never never never never true like u
And I'll never never never leave u
I can never never never never be so lost
Cuz' I want u be mine baby
I cannot hide the liking of you, really want really want to keep you
Thread on cheerful steps, happy country
I cannot stop the missing towards you, hold onto love a little bit by bit
The sweetness of love, our happiness, he way I do I'd like to
I cannot hide the liking of you, really want really want to keep you
Thread on cheerful steps, happy country
I cannot stop the missing towards you, hold onto love a little bit by bit
The sweetness of love, our happiness, he way I do I'd like to
Never never never never leave u