The introduction and description of roles and characters in Noriko Goes to Seoul Korean drama (TV movie):
Kim Min-ha (played by Lee Hong Ki)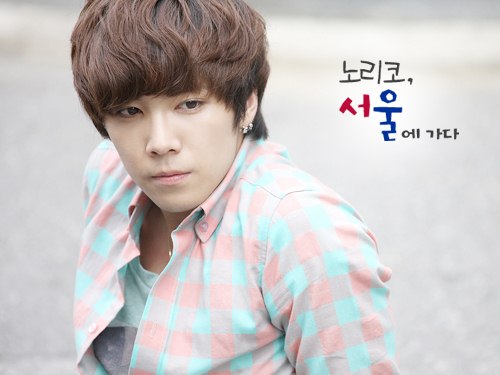 Parents had passed away, grown up by grandmother. 20s in age. Not really a teenager, but is also not yet an adult, kind of youth in a loss. Although he has passion for music, but he has failed many audition. From a family which is not rich, causing him to gradually lose self-confident. Although he decides to give up on music eventually, but he learned from Noriko the spirit of do not give up easily, and recovers the passion for music. Although he looks headstrong and willful, but he always has the innocence of kids. Secretly in love of Sora, but does not confess to her due to shyness and no confident. The relationship between Min-ha and Sora is getting further and further away.
Mori Noriko (played by Takashima Reiko)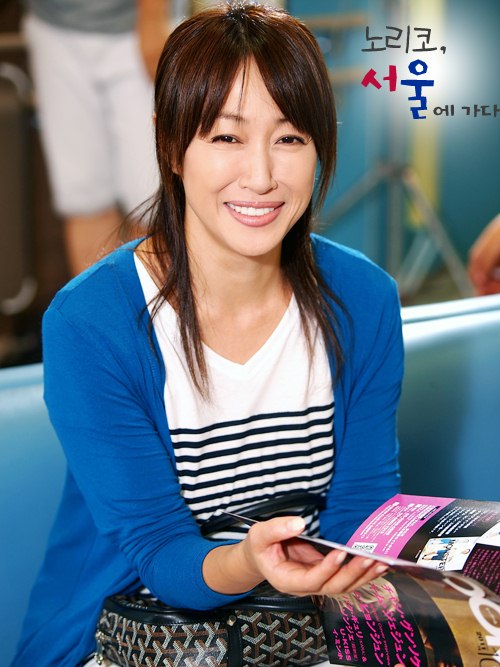 45 years old. A loyal housewife for 17 years. Crazy about Hallyu singer Kim Hyun Jae, but her husband Hiroshi and daughter Miyuki who is just reached puberty cannot understand her. Later she is pronounced to have lung cancer. For the sake of her daughter, she joins the popular Korea's TV program "Celebrity Audition." The challenge is not easy because of poor Korean, lacking of singing skill, and worry about family in Japan. But with the help of Min-Ha's family and love for her daughter, she manages to stand on the stage of the finale. She unknowingly displays internal commitment and enthusiasm due to her strong maternity. Has calm and affable altitude, but though she is gentle, but surprisingly is also funny and cute.
Sam-wol (played by Kim Ji-yeong)

65 years old. Min Ha's grandmother, owner of small store. Brought up Min Ha together with the son who is still single. Speak with loud voice, and has peculiarities, but is kind. Although not saying it up, she is extremely sad when Min Ha decides to give up on singing.
Sang-cheol (played by Woo Yong)

36 years old. Min Ho's cousin. Taking care of lead casts for 3 months when jobless. Eat more as the age increases, but the behavior is still not grown up, always been tortured by grandmother. But he is a person who nobody will like to hate.
Sora (played by Han Jeong-won)

22 years old. A beauty. Love each other with Min ha since long time ago. But the relationship is no longer close due to change of environment. Min Ha knows he likes her, but does not want to be the first who confess.
Woo-jin (played by Im Jong-in)

22 years old. Secondary schoolmate of Sora. Handsome, son of wealthy family who has car. Love Sora, but notices that Sora loves Minha, so he always ridicules and laughs Min-ha.
Kim Hyeon-jae (played Ryoo Si-won)

Early 30s. Hallyu singer. The idol of Noriko. A handsome member of a Korean band. He replaces Noriko's family in the lonely heart of Noriko.
Woo-jin's mother (played by Kim Seon-hwa)

47 years old. Housewife and mother of Woo Jin, the only child. Has another step-son.
Miyuki (played by Ikura Manami)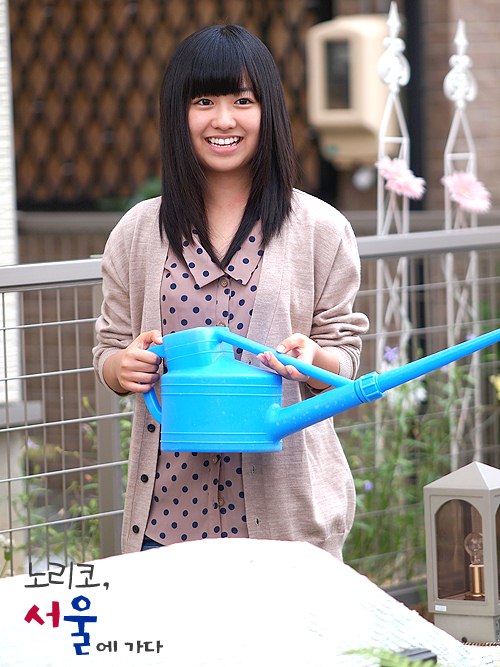 16 years old, a student, daughter of Noriko. Has a heart which easily get hurt. Used to skip school due to been hurt when young. Grown up under the care and protection of mother, but at the turn of adolescence, she gets rebellious, starting to hate mother. The relationship with father is not peaceful either.
Hirosi (played by Masanobu Katsumura)

47 years old. An employee. Always been deployed overseas. Seldom care about family and daughter. Let wife take care of everything. A little timid and shy.
Ah Ya (played by Miseuda Yuko)

16 years old, friend of Miyuki. Has a bright and aggressive personality. But after Miyuki been hurt, she herself was hurt deeply too.
Jun Ko (played by MayBee)

Early 30s. Friend of Noriko. Is a fan of Kim Hyeon-jae, and even becomes the team leader for the fan group.
Haruka (played by Tani Rumiko)

40s in age. Friend of Noriko. A fan of Kim Hyeon-jae. Normal housewife but is a sensible girl.
Nazumi (played by Abe Mihoko)

30s in age. Career woman. Friend of Noriko. A fan of Kim Hyeon-jae.