Your Rating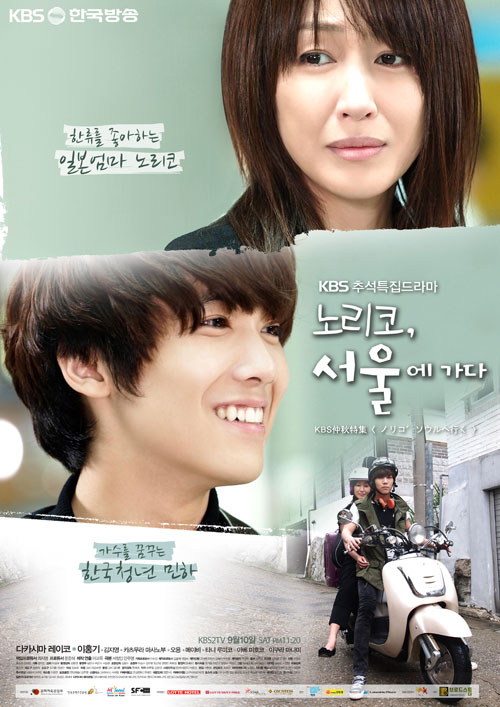 Drama Title: Noriko Goes to Seoul
Korean Title: 노리코, 서울에 가다
Also Known As: Noriko Goes
Revised Romanization: No-ri-ko, Seo-wool-ae Ga-da
Chinese Title: 纪子, 去首尔吧! / Noriko去首尔
Genre: Romance, Family
Episodes: 1
Broadcast Place: South Korea
Broadcast Network: KBS
Broadcast Period: September 10 2011
Language: Korean / Japanese
Length: 90 minutes
Air Time: 23:20 PM
Plot Summary / Synopsis
A family drama that tells the story of a Japanese couple family who have been married for 17 years. Housewife Noriko is in love with Hallyu singer Kim Hyun Jae, but her husband Hiroshi and daughter Miyuki who is just reached puberty cannot understand her. One day in hospital, Noriko is pronounced to have lung cancer. To make matter worse, Miyuki is giving up her beloved track and field life, and Noriko is also getting more worried about Hiroshi who is indifferent.
Coincidentally Noriko hears the news that Kim Hyun Je will be a judge at an audition, so in order to give her daughter courage, she leaves behind all the daily routines to go to Korea to try out for the audition. While in Japan, she meets with Kim Min Ah who dreams of becoming a singer. Both person affects each other life positively.
Noriko helps Min Ah to improve his singing by teaching him. During the Ghost Festival, Noriko lives with the family of Min Ah, and let her understand the importance of family. After passing numerous challenge, Noriko finally manages to return to the love of family, and experience the warmth of the family.
Cast
Takashima Reiko (高島礼子) as Mori Noriko (모리 노리코)
Lee Hong Ki (이홍기) as Kim Min-ha (김민하)
Kim Ji-yeong (김지영) as Sam-wol (삼월)
Ikura Manami (伊倉 愛美) as Miyuki (미유키)
Woo Yong (오용) as Sang-cheol (상철)
Masanobu Katsumura (勝村政信) as Hirosi (히로시)
Han Jeong-won (한정원) as Sora (소라)
Im Jong-in (임종인) as Woo-jin (우진)
Miseuda Yuko (蓝田世吉) as Ah Ya (아야)
MayBee (메이비) as Junko (준코)
Ryoo Si-won (류시원) as Kim Hyeon-jae (김현재)
Tani Rumiko (谷ルミコ) as Haruka (하루카)
Abe Mihoko (阿部美穂子) as Nazumi (나츠미)
Kim Seon-hwa (김선화) as Woo-jin's mother (우진모)
Son Eun-seo (손은서) as Radio DJ (라디오 DJ)
Noriko Goes to Seoul Characters Description
Production Credits
Directed: Lee Kyo-wook (이교욱)
Screenwriter: Ahn Joo-yeong (안주영), Seo Jeong-min (서정민)
Episode Rating
Nationwide: 1.6% (TNS Media Korea)
Trivia
Special drama to celebrate Chuseok.
Watch online with Chinese subtitle at tudou.com.
Watch online (no English or Chinese subtitle) at tudou.com.
News, Interview and Behind the Scene
Photo Gallery