The 6th (2 songs in OST part 4) and last OST for Korean drama Bachelor's Vegetable Store from Channel A is released on February 16th, 2012, together with the release of full edition of the OST album.
The OST with the song title of Oh Fresh Men (오 싱싱맨) is the title song for the Bachelor's Vegetable Store full version OST album, which contains a total of 21 tracks. The Oh Fresh Men is the 5th song on the CD.
Oh Fresh Men is sung by VF6DOLE, the group comprised of the 6 actors in the drama including Ji Chang-Wook, Kim Young-Gwang, Lee Kwang-Soo, Supernova's Jihyuk, Sung-Ha, and Shin Won-Ho.
Oh Fresh Men is a chorus of hope presented by the actors despite their busy shooting schedule to the fans. The spectacular strings and brass performance stand out in this song in which the 6 young men sing about bravely going forth into the world with high hopes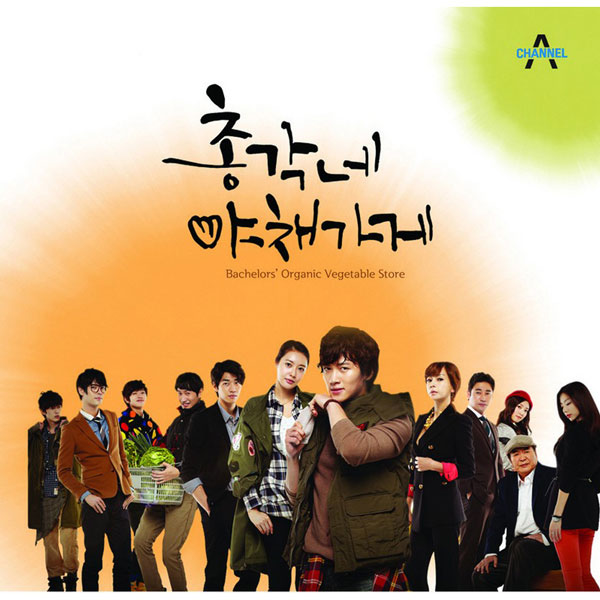 Oh Fresh Men (오 싱싱맨) MV
Oh Fresh Men (오 싱싱맨) Lyric
가슴을 쫙 펴고 소리를 질러봐
땀과 열정이 가득한 그곳
여기는 총각시대
지금부터 시작해봐
더 넓은 세상향해
가슴속에 희망품고 새로운
꿈을 찾아가는 야채가게
크게 한번 웃으며 소리친다
우리들은 총각들
오오오 싱싱맨
꿈이 살아있는 이곳
사랑이 숨쉬는 곳
새벽의 문을 여는 곳
언제라도 힘이 들면
서로손 다시 잡고
파이팅 크게 더 크게
내일의 태양은 언제나
환히 밝아 오니까
고개 들어 우린 총각네 VF6DOLE
지금부터 시작해봐
더 넓은 세상 향해
가슴속에 희망품고 새로운
꿈을 찾아가는 야채가게
크게 한번 웃으며 소리 친다
우리들은 총각들
오오오 싱싱맨
세상걱정 던져버려
더 많이 웃으면 돼
하하하 크게 더 크게
매일 밤 꿈처럼 언제나
우린 하늘을 날지
소리 친다 우린 총각네 VF6DOLE
지금부터 시작해봐
더 넓은 세상 향해
가슴속에 희망품고 새로운
꿈을 찾아가는 야채가게
크게 한번 웃으며 소리 친다
우리들은 총각들
오오오 싱싱맨
넘어질때도 있겠지만
우린 일어 날꺼야
꿈을 향해서
한걸음씩 또 한걸음씩
지금부터 시작해봐
더 넓은 세상 향해
가슴속에 희망품고 새로운
꿈을 찾아가는 야채가게
크게한번 웃으며 소리 친다
우리들은 총각들
오오오 싱싱맨
Oh Fresh Men (오 싱싱맨) Lyric Romanization
gaseumeul chwahk pyeogo sorireul jilleobwah
ttamkwah yeol-jeon-gi kadeukhan geu-gos
yeo-gineun chonggakshidae
chigeumbu-teo shija-khaebwah
deo neolbeun sesang-hyang-hae
gaseumso-ge hyimangpumko saeroun
kkumeul chaja-ganeun yachae-ga-ge
keuge hanbeon useumyeo sorichinda
urideu-reun chonggakdeul
o-oo shingshingmaen
kkumi sara-i-nneun igos
sarangi sumshwiineun gos
saebyeokye muneul yeoneun gos
eonjerado himi deulmyeon
seoroson tashi jab-go
pa-iting keuge deo keuge
nae-ilye taeyangeun eonjena
hwahnhi balga onikka
ko-gae deu-reo urin chongganne VF6DOLE
chigeumbu-teo shija-khaebwah
deo neolbeun sesang hyang-hae
gaseumso-ge hyimangpumko saeroun
kkumeul chaja-ganeun yachae-ga-ge
keuge hanbeon useumyeo sori chinda
urideu-reun chonggakdeul
o-oo shingshingmaen
sesanggeokjeong deonjyeobeoryeo
deo manhi useumyeon dwaeh
hahaha keuge deo keuge
mae-il bam kkumcheoreom eonjena
urin haneu-reul nal-ji
sori chinda urin chongganne VF6DOLE
chigeumbu-teo shija-khaebwah
deo neolbeun sesang hyang-hae
gaseumso-ge hyimangpumko saeroun
kkumeul chaja-ganeun yachae-ga-ge
keuge hanbeon useumyeo sori chinda
urideu-reun chonggakdeul
o-oo shingshingmaen
neomeojil-ttaedo itket-jiman
urin i-reo nal-kkeoya
kkumeul hyang-haeseo
hankeo-reumsshik tto hankeo-reumsshik
chigeumbu-teo shija-khaebwah
deo neolbeun sesang hyang-hae
gaseumso-ge hyimangpumko saeroun
kkumeul chaja-ganeun yachae-ga-ge
keuge-hanbeon useumyeo sori chinda
urideu-reun chonggakdeul
o-oo shingshingmaen
Oh Fresh Men (오 싱싱맨) Lyric English Translation
Stretch out the heart, scream
Here is full of passion and sweat
This is the time of bachelor
Starting from now
Towards the wider world
Harboring a new hope in your heart
Towards a dream grocery store
Laugh and shout
We're the bachelors
Oh oh oh, fresh men
Here the dream is alive
Here has love
Here where the door opens on the morning
Anytime when feeling tired
We hold hand in hand
Fighting louder and even lounder
The sun of tomorrow is always
Shining and glaring
Raise your head, we're the bachelors VF6DOLE
Starting from now
Towards the wider world
Harboring a new hope in your heart
Towards a dream grocery store
Laugh and shout
We're the bachelors
Oh oh oh, fresh men
Throw away the worry on the world
More and more smile
Hahaha louder and louder
Like a dream every night, always
We fly to the sky
Shout out loud, we're the bachelors VF6DOLE
Starting from now
Towards the wider world
Harboring a new hope in your heart
Towards a dream grocery store
Laugh and shout
We're the bachelors
Oh oh oh, fresh men
Although there is time of falling down, but
We will stand up again We are pouring up
Toward a dream
Step by step, another step by step
Starting from now
Towards the wider world
Harboring a new hope in your heart
Towards a dream grocery store
Laugh and shout
We're the bachelors
Oh oh oh, fresh men