Actress Park Ye Jin said of Kim Ki Bum who is co-starring in tvN Monday and Tuesday drama series "I Love Lee Tae Ri", "He is a good drinking buddy."
The lead actors Park Ye Jin, Kim Kim Bum, and Yang Jin Woo attended the production press conference of the tvN drama series "I Love Lee Tae Ri" held at Yeongdeungpo, Seoul on June 21st, 2012.
"I Love Lee Tae Ri" tells the story of a 14-year-old boy suddenly turned into a 25-year-old mature youth in one morning, and falls in love with a rich girl.
Park Ye Jin plays the role of heiress of chaebol Lee Tae Ri who is perfect in appearance, academic qualification and family background, who is a snow princess who no longer belive in love due to the hurt of first love.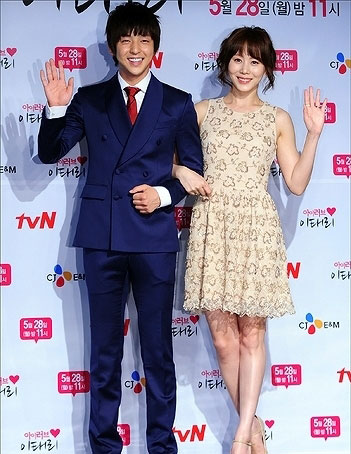 Park Ye Jin said about Kim Ki Bum who is younger than her for 6 years, "Cooperating with Kim Ki Bum, I does not feel the generation gap. Although not yet too close, but he is a good drinking buddy."
Park Ye Jin said, "Kim Ki Bum is drinkable during first meeting dinner. And he is very talkative once drinking."