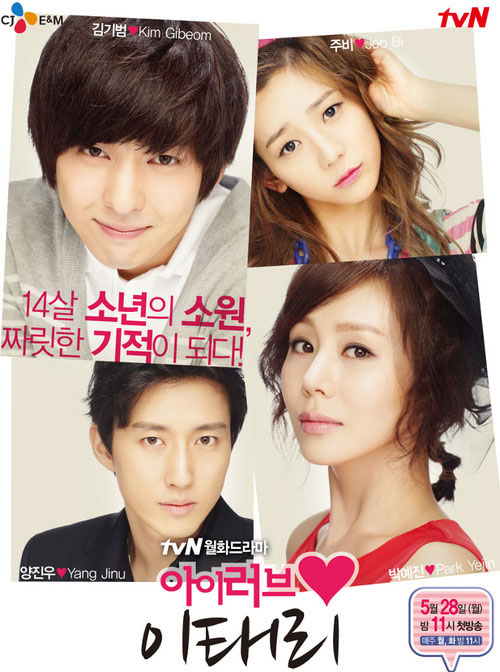 Drama Title: I Love Lee Tae Ri
Korean Title: 아이러브 이태리
Romanization: Aileobeu Itaeli
Also Known As: I Love Italy / I ♥ Lee Terry
Chinese Name: 我爱李泰利
Japanese Name: アイラブイテリ
Genre: Romance, Comedy, Fantasy
Episodes: 16
Broadcast Place: South Korea
Broadcast network: tvN
Broadcast period: 28 May 2012
Language: Korean
Air time: Monday and Tuesday 11:00 PM
Preceded By: Marriage Plot (The Wedding Scheme)
Followed By:
Plot Summary
"I Love Lee Tae Ri" is a romantic comedy about middle school student aged 14 who suddenly becomes a grown up and becomes an assistant to a plutocrat heiress Lee Tae Ri. There's a pun in the title as Lee Tae Ri can be romanized as "Italy".
Synopsis
14-year-old Geum Eun Dong is engaged to a woman 7 years older than him. He discovers that the woman likes another man. Geum Eun Dong is shocked and wishes that he could protect his love. After the wish, Geum Eun Dong becomes a 25-year-old man.
Lee Tae Ri is an heiress from a wealthy family. She seems perfect, with an attractive appearance and a great educational background, but after being hurt by her first love she doesn't believe in love anymore. Her family is also jealous of her and Lee Tae Ri now seems cold from a distance.
Suddenly, in front of Lee Tae Ri, Geum Eun Dong suddenly appears. Lee Tae Ri begins to have feelings for Geum Eun Dong …
Cast
Kim Ki Bum (김기범) as Geum Eun Dong (금은동)
Park Ye Jin (박예진) as Lee Tae Ri (이태리)
Yang Jin Woo (양진우) as Choi Seung Jae (최승재)
Jubi (주비) as Ha Soon Sim (하순심)
Im Ho (임호) as Geum San (금산)
Lee Moon Soo (이문수) as Geum Hak Sa (금학사)
Soy (소이) as Na Hong Sil (나홍실)
Jang Young Nam (장영남) as Oh Mi Ja (오미자)
Choi Duk Moon (최덕문) as Tae Ri's Younger Uncle (태리의 작은아버지)
Kim Yong Hoon (김용훈) as Head of Department Moon (문실장)
Jang Seo Won (장서원) as Hwang Min Gook (황민국)
Jun Yang Ja (전양자) as Baek Soo Bok (백수복)
Production Credits
Director: Kim Do Hyuk (김도혁)
Writer: Moon Ji Young (문지영)
Synopsis by Episode
Episode 1
Episode 2
Episode 3
Episode 4
Episode 5
Viewership Ratings (Ranking)
| | | | | | |
| --- | --- | --- | --- | --- | --- |
| Date | Episode | Nationwide (TNS) | Seoul (TNS) | Nationwide (AGB) | Seoul (AGB) |
| 28 May 2012 | 1 | | | | |
| 29 May 2012 | 2 | | | | |
| 4 June 2012 | 3 | | | | |
Source: AGB Nielson and TNmS
Official Site
Official Photo Gallery
Watch online with English subtitle (not yet available).
Watch online with Chinese subtitle (not yet available).
Photo Gallery