The wedding pictorials with different charms from South Korean Channel A drama series, "The Strongest K-Pop Survival" have been released, attracting attention.
Member of Jewelry pop group, Kim Eun Jung, who turns to be an actress in "The Strongest K-Pop Survival", is achieving the long-cherished wish of all women. In the episode 9 broadcast on April 16th, 2012, Oh In Young (Kim Eun Jung) who is shooting wedding pictorial photos at the studio of Kang Woo Hyun (Park Yoo Hwan) has the honor to receive the princess treatment from 8 M2 Junior members who surrounded them.
The concept of the day's shooting is the Seven Dwarfs and Snow White with the Prince. The beautiful Kim Eun Jung dressing in wedding gown been protected by 8 men, satisfying the fantasy of female viewers about the wedding pictorials, and at the same time is expected to trigger envy and jealousy.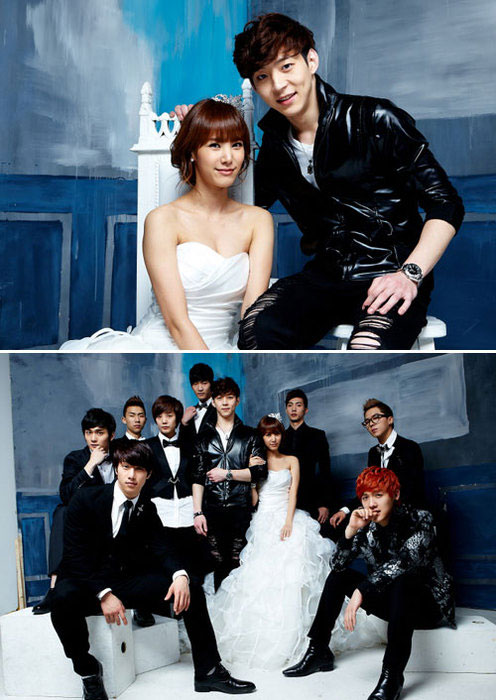 Park Yoo Hwan who is reborn as Kang Woo Hyun is exuding distinctive chic charm. On the day, Woo Hyun was wearing a black leather jacket while In Young was wearing white dress, displaying contrasting image, completing distinctive wedding shots.
Meanwhile, Ji Woo (Kwak Yong Hwan) confesses to Seung Yeon (Go Eun Ah), and the love triangle between Woo Hyun, Ji Woo and Seung Yeon emerged to the surface.
via SBS