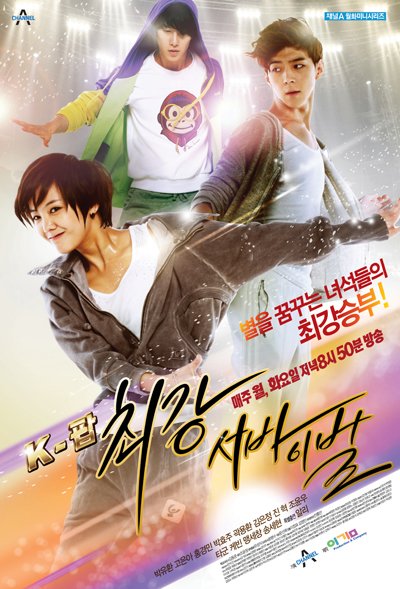 Drama Title: K-Pop – The Ultimate Audition
Korean Title: K-POP 최강 서바이벌 / K-팝 최강 서바이벌
Romanization: K-POP Choegang Seobaibeol
Also Known As: The Strongest K-POP Survival / K-POP Extreme Survival
Chinese Name: Kpop最强生死战
Japanese Name: KPOP最強サバイバル
Genre: Romance, Musical
Episodes: 14
Broadcast Place: South Korea
Broadcast network: Channel A
Broadcast period: 19 March 2012 – 1 May 2012
Language: Korean
Air time: Monday and Tuesday 8:50 PM
Preceded By: Color of Woman
Followed By:
Plot Summary / Synopsis
K-Pop – The Ultimate Audition is the first drama in South Korea that depicts the upsurge of K-Pop. It tells the story behind the idol stars which is unknown to others.
The pianist Ji Seung Yeon dreams to be a hip-hop rapper. She is well loved by audience because of outstanding appearance and sense of humor. But she has to disguise as a man and be a member of male pop idol group under situation which out of her control.
Cast
Park Yoo Hwan (박유환) As Kang Woo Hyun (강우현)
Go Eun Ah (고은아) As Ji Seung Yeon (지승연)
Kwak Yong Hwan (곽용환) as Kwon Ji Woo (권지우)
Members of Sunny Planning Agency
Hong Kyung Min (홍경민) as Jang Hyun Suk (장대표)
Park Hyo Joo (박효주) as Team leader Han Jung Eun (한팀장 / 한정은)
Lee Sang Joon (이상준) as Jang Suk
Ali (알리) as Teacher Park (박선생)
Shin Seo Kyung (신서경) as Lee Soon Yeon
Members of M2 Junior
Song Se Hyun (송세현) as Kim Hyun Seung (김현승)
Tagoon (타군) as Park Ki Bum (박기범)
Maeng Se Chang (맹세창) as Jang Tae Kwon (장태권)
Jo Yoon Woo (조윤우) as Dong Woo (동우)
Jin Hyuk (진혁) as Yoon Jae Ah (윤재아)
Kevin as Chang Min (창민)
Other Characters
Kim Eun Jung (김은정) as Ri Ah (리아) / Oh In Young
Kim Young Ok as Ji Woo's grandmother
Production Credits
Director: Lee Jung Pyo (이정표)
Screenwriter: Moon Sun Hee
Synopsis by Episode
Viewership Ratings (Ranking)
Date
Episode
Nationwide
Seoul
19 March 2012
1
0.229
20 March 2012
2
0.200
26 March 2012
3
27 March 2012
4
0.314
0.40
2 April 2012
5
0.313
0.41
3 April 2012
6
0.338
0.49
9 April 2012
7
0.21
0.30
10 April 2012
8
0.459
0.70
16 April 2012
9
0.36
0.54
17 April 2012
10
0.436
0.73
23 April 2012
11
0.362
0.59
24 April 2012
12
0.42
0.71
30 April 2012
13
0.415
1 May 2012
14
0.257
Source: AGB Nielson
Official Site
Official Photo Gallery
Official Behind the Scene (Making) Videos
K-Pop – The Ultimate Audition OST Part 1 – I Already Knew
K-Pop – The Ultimate Audition OST Part 2 – Stand Up
Watch online with English subtitle at viki.com.
Watch online with Chinese subtitle at youku.com.
Photo Gallery