Park Yoo Hwan and Ko Eun Ah are dating on the dining table.
On April 9th, 2012, in the episode 7 of K-Pop – The Strongest Survival drama series, Park Yoo Hwan and Ko Eun Ah are showing a lovely yet fresh love.
In the published stills, Seung Yeon (played by Ko Eun Ah) quickly prepares the breakfast, and feeds Woo Hyun (Park Yoo Hwan) who injured after trying to protect her. When Park Yoo Hwan is eating, the expression of Ko Eun Ah when looking and smiling at him is just like a mother, while Park Yoo Hwan is showing a adorable eating style.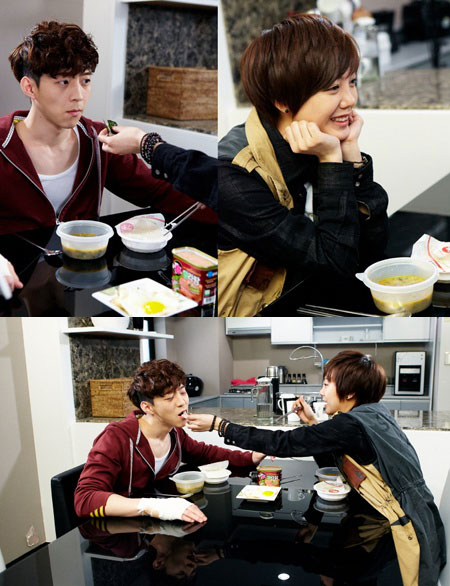 In addition, In Young is officially debuting in the drama, attracting concern how it's going to influence the change of the plot. Seung Yeon and Woo Hyun who always 'quarrel' when meeting are gradually developed into the friendship. The future progress of them is raising curiosity of audience.