The surprise kiss of Go Eun Ah and Park Yoo Hwan in the airport was made public.
The love line of Channel A drama "K-Pop – The Ultimate Audition" officially begins. In the episode 9 broadcast on April 16th, 2012, relationship of Woo Hyun (Park Yoo Hwan) and Seung Yeon (Go Eun Ah) improves greatly, and is expected to raise the anticipation of audience to a climax.
In the published stills, Seung Yeon understands her feelings to Woo Hyun. In order to confess, she goes to look for Woo Hyun. Woo Hyun still doesn't know that Seung Yeon is a woman, and thus Seung Yeon is distressed on how to convey that she is a woman.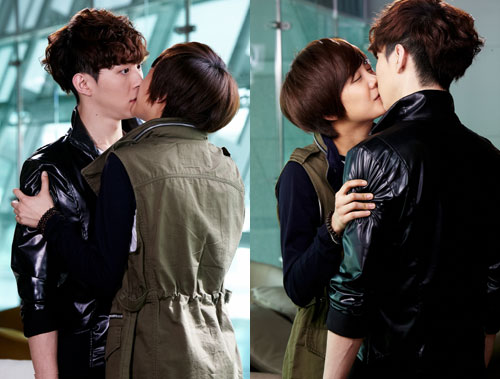 In addition, Seung Yeon decides on the plan to kiss Woo Hyun in surprise. At the airport with many people, the kiss scene is expected to move the viewers. Currently, the relationship between Seung Yeon and Woo Hyun is of senior-junior friendship, and the romance relationship is shaking as it couldn't progress. The delicate feeling of more than friend but not yet a lover is stirring the hearts of the audience.
"K-Pop – The Ultimate Audition" is broadcast every Monday and Tuesday at 8:50pm.
via Hankooki