In the K-Pop – The Ultimate Audition (Strongest Survival) starring Park Yoo Hwan and Go Eun Ah, the dizzying stills of two persons on the sofa were released.
In the photos released on March 23rd, 2012, Park Yoo Hwan and Go Eun Ah are lying on the sofa, giving out the hint that the love line of Woo Hyun and Seung Yeon is about to officially begin. Woo Hyun who was pushed down with puzzling expression and the look of Seung Yeon who looks at him show the innocent feelings of 'winning couple.'
Previously in episode 1 and 2, the various stumbling incidents by the twos had provoked laughter of audience. The unusual actions of Seung Yeon such as vomiting on the plane and secret videotaping in the washroom has touched the heart of Woo Hyun. Superstar Woo Hyun uses unique cold treatment method as the response. In episode 3, the barrier between them underwent subtle change. In episode 3, the unprecedented charm of Woo Hyun, who is hypocritically exuding unlimited charms to fans, that is neglected in real life will also been shown.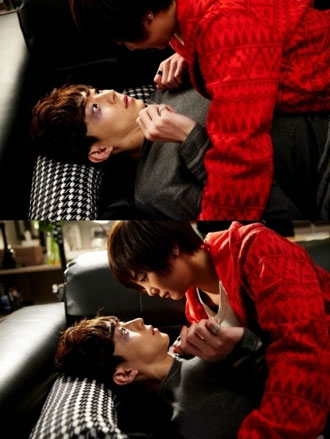 Episode 3 of K-Pop – The Ultimate Audition is broadcast on March 26th, 2012.