Popular Taiwan idol drama "Office Girls" held a fans meet at November 12th, 2011, the actors who are presented were Roy Chiu Ze, Alice Ke Jia Yan, Guo Shu Yao, Janel Tsai, Patrick Li Pei Xu, and Wen Sheng Hao. Before that Alice Ke had said that if viewer ratings break 6, she wants to reveal the abdominal muscles, and at the event, she also taught the fans how to improve the abdominal muscle. Alice Ke said that she will try her best as it's the question of sincerity.
The actor Roy Qiu Ze and fans were playing some game during the fans meet. Roy Chiu Ze performed as an intimate "forehead temperature taker" in order to guess who is the real "Shen Xing Ren," which was also joined by fans. When it's Guo Shu Yao's turn, she felt shy until her face became red. In addition, Wen Sheng Hao and Patrick Li Pei Xu also became participants, but Roy Chiu Ze couldn't got it right after guessing twice. He said that he just guess casually. But the most funny thing was when it came to the turn of Janel Tsai, Patrick Li coughed falsely, causing laughter at the scene. When interviewed, Patrick Lee laughed that it is just an effect, Janel Tsai also sided with Patrick that it's just for fun.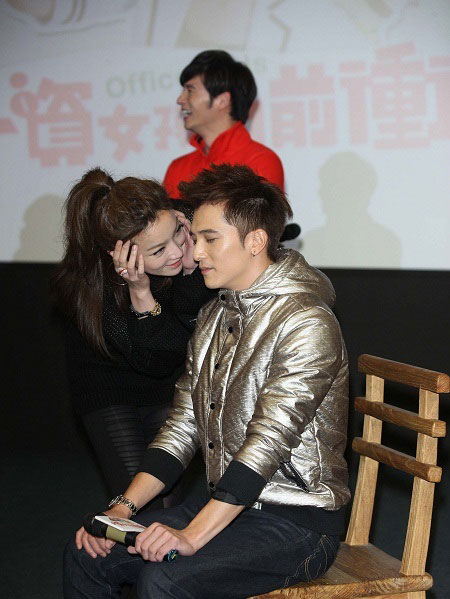 The scene of "revenge of the male" by Patrick Li is the drama has got a lot of response from viewers. He said he never thought that it would generated such a huge response. He laughed and revealed that he needed to complete the scene quickly before he was broke up, else the co-actors Roy Chiu and Alice Ke would have to challenge the power of tolerance. Roy Chiu Ze successfully passed the test, but Alice Ke was unable to bear, she even needed help from assistant director to substitute the role of Patrick Li to complete the shooting. Patrick Li Pei Xu smiled and said luckily that it only took a few hours to shoot, and he just exaggeratedly acted the human nature.
"Office Girls" is enormously popular now, Alice Ke said that the way she spent money is same with the heroine, where she usually does not use credit cards, most spending is using cash. Alice Ke said that she work hard now to save down payment, it is hoped that she will be able to save money to buy a house, so that the family who stay in a rented house no need to suffer more hardship.