Patrick Li Pei Xu and Janel Tsai Shu Zhen is in love relationship. But Janel Tsai is acting in the role in Office Girls that will be the lover partner of Wen Sheng Hao. As a result, in and out of the drama, both men will share a woman.
During the Sanlih TV 17th anniversary celebration on September 24th, 2011, Patrick Li jokingly told Wen Sheng Hao to be "more careful," but then expressed that he doesn't mind as they're "relatives." Currently, three of them all belong to artists of Ee-Lin agency.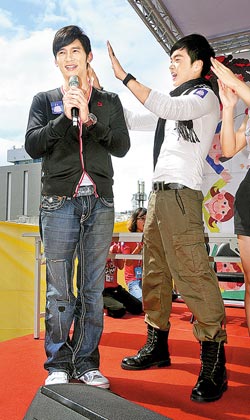 Patrick Li who is 32 years old with weight of 68kg was discovered that he had developed "happiness fat" on his whole body. He boosted that his character in Office Girls is 37 years old, as such with the fat he fits into the role properly, and was laughed as without shamefulness.