You may be not familiar with the name of Yoon Seok Ho, but if mentioning the dramas he directed, you must be very familiar. An Autumn In My Heart set off unprecedented Hallyu wave in the entire Greater China region, a Winter Sonata ushered in the spring for Korean drama in Japan. And this outstanding director, is now standing in front of audience with new drama. The production press conference for Love Rain held at Lotte Hotel on March 22nd, 2012 had attracted more than 400 local and overseas reporters, and there were also many fans from various countries who came for the hero Jang Geun Suk and heroine Yoona, the atmosphere on the scene was feverish.
Director Yoon Seok Ho, who created many Hallyu stars through his dramas, selected popular star Jang Geun Suk who can set off a new round of Korean wave in Japan after Baek Yong Joon as the lead male actor. He also chose Yoona who is the member of Korean music representative group Girls' Generation (SNSD) which is highly popular in Japan, USA and even Europe as the lead female actress. Love Rain has received great attention in South Korea even before broadcast begins, and this has also led to historic prince for export of the drama. The price for copyright export of the drama to Japan hits 450 million won per episode (about USD $395,000), for a total of 7.9 million US dollar. This shown that the high popularity of the drama at home and abroad.
The reason Love Rain able to attract so much attention at home and abroad, is mainly because the two protagonists, Jang Geun Suk and Yoona, who each person plays two roles in 70s and present respectively. The two persons portray two completely different love in the drama. The simple and unassuming of 1970s, and reality and fast-paced of modern society. The change of roles also allows the two actors a chance to train.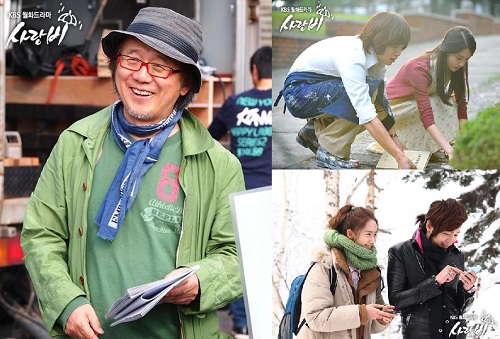 Director Yoon Seok Ho highly praised the acting of Jang Geun Suk, "Jang Geun Suk has the innocent temperament of flowery handsome boy, and also has the charismatic masculine temperament. His acting is very delicate, expression is also very much in place. The most powerful is his eyes, very good. Precisely because of so that I chose him. I only get to know along the shooting that the reason why the acting of Jang Geun Suk is so natural and perfect is because that once we point out to him, he immediately improves on his imperfections, and then in pursuit of perfect performance, we can say that at this point he is very talented. Can be considered as the result of his innate talent plus efforts."
Previously there was media that reported because of poor performance of Jang Geun Suk during the shooting on the set, causing the filming couldn't go on smoothly. About the true situation on the report, reporter also asked for confirmation directly from director Yoon. He said, "TV series is a product collaborated by tens of people. If one person does badly, then the whole TV series will not be able to shoot properly. But the reports of those media is untrue. When shooting, Jang Geun Suk does not have the behavior of arrogant star, he is very cordial, I feel that this is very different with a lot of stars."
The heroine is also single person playing two roles, the acting has some degree of difficulty. Many reporters were also surprised at the decision of director Yoon to select Yoona as the heroine. Director Yoon Seok Ho said, "Love Rain is a very sunny drama that expresses pure love. It's not easy to find such an actress with image of cheerful yet simple among current young actress. Because currently most of the actresses is actress with own characteristic full of aura or even a little bit neutral. But when seeing Yoona, I feel that she has the same qualities with the heroine, is a cheerful and simple look, so I picked her." He added, "Yoona has the endurance capability and absorption capacity that are beyond her age. She can very quickly integrated into the atmosphere of production team."
The personality of Jang Geun Suk and Yoona is very different. Many people has the worry that the cooperation between the two will not be smooth. Director Yoon said, "In fact, not only in acting, in private too, the two peoples get along in perfect harmony. Often jokes around. Yoona actually gets along very well with others, she is kind of carefree. I believe the perfect cooperation of two peoples will make Love Rain even better. Please look forward to it."
As another wind vane of development of Korean drama, Love Rain has draw a great curiosity even before premiering. Year 2012 is the year of Yoon Suk Ho romantic TV series. The participation of two Hallyu stars Jang Geun Suk and Yoona has brought up the attention to another level. And in the end of interview, director Yoon Seok Ho used a simple sentence to sum up his state of mind, "I have confidence."