In KBS drama series Love Rain, the love song sang by Jang Geun Suk to Yoona becomes an instant hit.
In the Love Rain drama series which sets its background on the romantic university campus of 1970s, the beautiful background music becomes the focus of attention. On episode 2 that was broadcast on March 28th, 2012, the song "Love Rain" which was composed by Seo In Ha (Jang Geun Suk) for the memory with Yoon Hee (Yoona) in the rain becomes the focus. Jang Geuk Suk held a guitar and sang this song, expressing his affection for Yoona, while the sound of guitar of 1970s era also carried audience back to the era through the TV screen.
The song, Love Rain, is personally written lyric by the director Yoon Suk Ho. The lyric, "stroll with her under the umbrella, the sound from the rain falling on my heart, we stroll under the umbrella in rain," also expresses the obscure and wonderful feelings at that time of first love.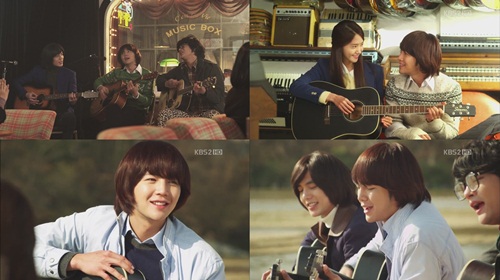 May songs in the drama have been personally sang by the actors themselves, becoming another major attraction of the drama. The musical director of the drama said, "Very surprised that audience is so concerned about the music in the drama, it seems like the musics in the drama convey well to middle-aged viewers and young viewers, hope can continue to stay tuned."