The information and description of various main characters and roles in Poseidon, together name of actor or actress who is acting the character.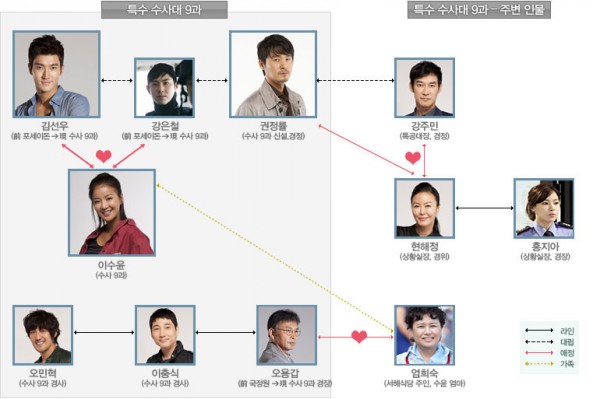 Poseidon Cast Map
Kwon Jung Ryul (acted by Lee Sung Jae)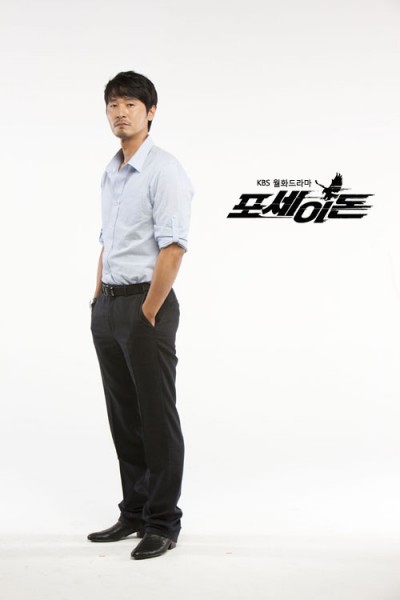 Three years ago, he lost his wife Min Jung when setting up a secret investigation team to investigate Choi Hee Gon. Although constantly received threats from criminal organizations but still insist on conducting investigation. Because of thinking that his stubbornness killed his wife, he leaves with guilt the Coast Guard for a while. After a long tangling, he leaves his young daughter Kwon Ha Na with her mother-in-law. In order to find the culprit who killed his wife, Jung Ryul who returns to Coast Guard works like a crazy person. He sets up Coast Guard Investigation 9 (CGI9) with the help of chief commissioner of situation control room Hyun Hae Jung, with members of Kim Sun Woo and Lee Soo Yoon, plus Oh Min Hyuk, Lee Chung Sig and Oh Yong Gap, to go on full-fledged mission to dig out illegal crime done by Choi Hye Gon's organization.
Kim Sun Woo (played by Choi Si Won)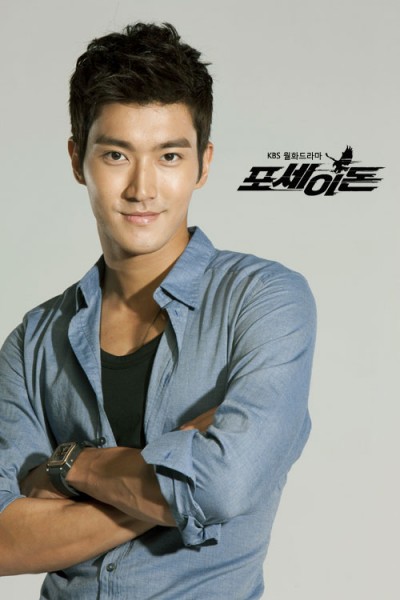 Sun Woo who is the next ace commando in Coast Guard assault team. He lost a colleague Yeo Kyung during a operation to investigate Choi Hee Gon, and eventually been sent to Kunsan police station to responsible for conducting impractical plan. Three years later, Sun Woo returns to the team of Coast Guard Investigation 9 due to request by Kwong Jung Ryul, and once again join in operation to investigate Choi Hui Gon. Sun Woo with cunning personality relies to stay in West Sea (Yellow Sea) restaurant near the general office, and interest in the daughter of restaurant owner, who is also the only female in CGI9 Lee Soo Yoon. But during search operation and engagement with Choi Hui Gon, Kim Sun Woo is bold and determined. But the closer they get to organization of Choi Hye Gon, he becomes hesitated and in conflict in front of the inconvenient truth that gradually unfolded.
Lee Soo Yoon (acted by Lee Si Young)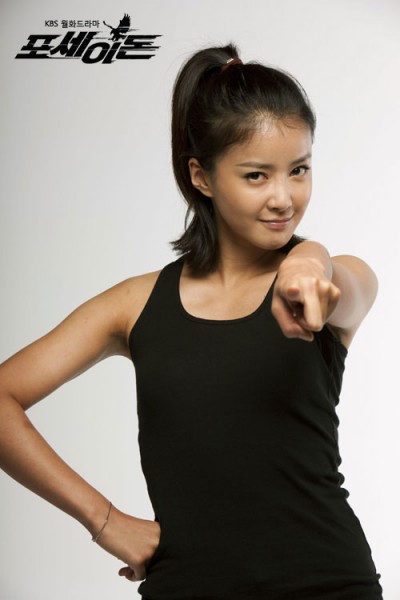 The only female member of Coast Guard Investigation 9 team, experts in various martial arts and fighting skills which is even better than usual men. Lee Su Yun who is carefree and casual going always speaks her catchphrase, "You crazy." Her father who was also a maritime police disappeared on the sea when Soo Yoon went to college. She is dependent on her mother Uhm Hee Sook who runs the West Sea restaurant in front of Coast Guard general office building. Soo Yong is always bickering with Sun Woo who stays under the same roof, and suddenly at one moment they are budding for a strange feeling, but the closer Sun Woo gets to organization of Choi Hui Gon, the more worry she has for Sun Woo.
Oh Yong Gap (acted by Kil Yong-woo)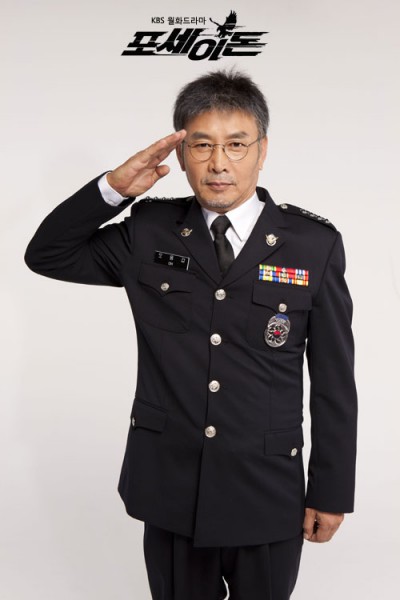 Superintendent of Coast Guard Investigation 9. The living legend of coast guard who used to been sent to NIS (National Intelligence) to conduct investigation. But don't know why he is stopped at superintendent at his later years. In the state where if the next year he doesn't get promoted will get sacked instead. But he is always do things leisurely without urgency. Keep saying the the taste of dishes at West Sea restaurant is the best. As long as nothing special, he will settle one day three meals at West Sea restaurant to express his feelings to Uhm Hee Sook. Not to mention knowledge about cases and investigations, he has the great knowledge on all everything related. Will keep talking non-stop like showing off his knowledge when asking a general question.
Kang Ju Min (played by Jang Dong-jik)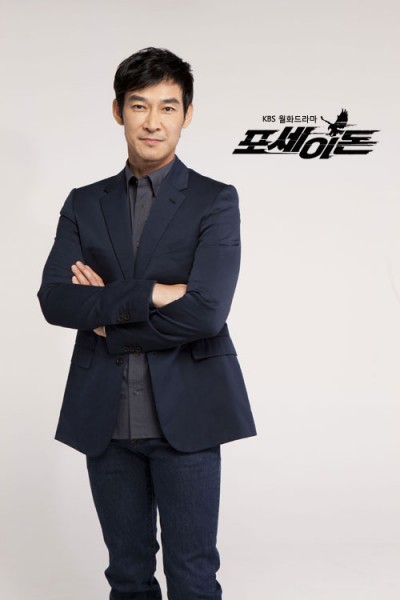 Team leader of central Coast Guard SWAT special assault commando team. Is same year with Kwon Jung Ryul, and is of competition in good faith relationship. Understand the suffering of Jung Ryul who lost his wife due to Choi Hee Gon, and thus closes one eye even though he knows Coast Guard Investigation 9 team is pursing the organization of Choi Hye Gon, and as team leader of special task force, has been providing whatever assistant he can afford of. Have a delicate three-corner relationship centered around Hyun Hye Jung of situation control room with Kwon Jung Ryul, but unable to revert the heart of Hye Jung which points towards Jung Ryul, and thus can only silently stay beside her.
Kang Eun Chul (acted by U-Know Yunho)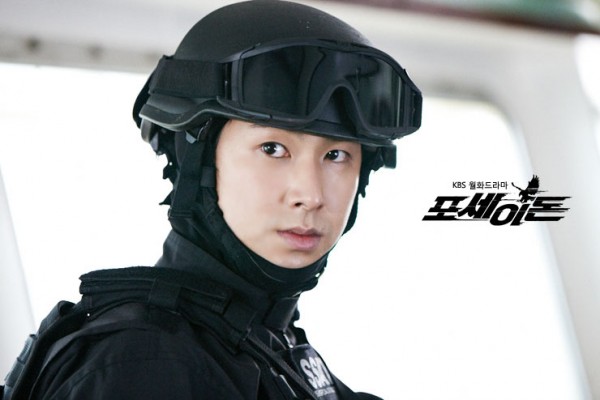 Same session with Kim Sun Woo, where both of them compete for position of first and second when Eun Chul is also in the commando special assault team. Have gained recognition of his skills at young age, and been appointed as leader of central task force tactical team. Used to take a bullet on behalf of Sun Woo during an investigative operation, but left for training in Japen Maritime Safety Agency before he is able to say something he wants to tell Sun Woo.
Kim Sang Soo (acted by Im Ki Hyuk)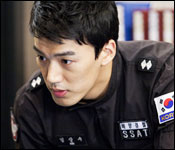 Team member of central special task force.
Uh Yeon Tae (played by Kim Tae Hyung)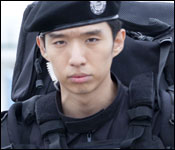 Team member of central special task force.
Hyun Hye Jung (acted by Jin Hee Kyung)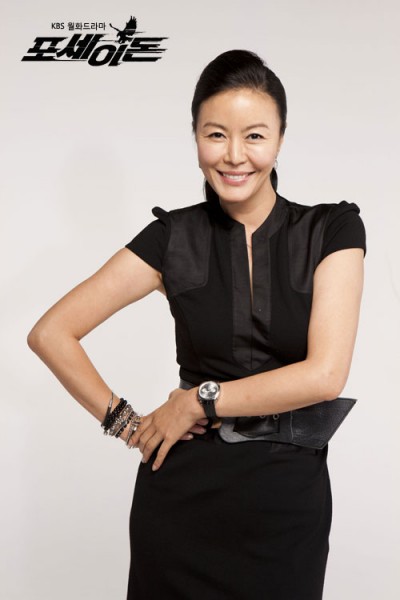 Lieutenant in central special task force situation control room, responsible for all operations related to maritime accidents and incidents nationally. Calm and has great analytical skill, earned her credentials not only in the control room, but is trusted by head of Coast Guard. To help Jung Ryul who was disciplined and stepped down from his position, she even suggests to head of Coast Guard to establish Coast Guard Investigation 9 (CGI9), but afraid such feeling will cause rift for both of them, and thus hide her feeling.
Hong Ji Ah (acted by Kim Yoon-seo)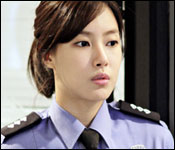 Works in situation control room, and is good friend of Lee Soo Yoon, but different with Soo Yoon who is carefree, Ji Ah can't live without a man, love shopping and is talkative, a typical 20-plus girl. Calls Hye Jung a witch, and scolds her whenever free. Graduated from technical university which has less girls, and for 4 years never need to handle the task herself already been surrounded by guys. With this experience, become the love guide for Soo Yoon who self-declared never fall in love before.
Gwon Chang Beom (acted by Yi Dong Sin)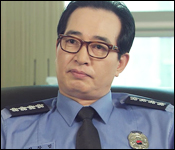 Chief commissioner or head of maritime police central office. The first chief Coast Guard the came purely from Coast Guard background, and understands better than anyone else the challenge of Coast Guard. Has the feel of human kindless, treats Hye Jung like his daughter, helps Jung Ryul to set up the CGI 9.
Han Sang Goon (acted by Choi Jung Woo)
Director of central office intelligence investigation department. Have power to exert big influence on Coast Guard operations. Hate Jung Ryul who always wanted to be hero anywhere anytime. When Jung Ryul made a mistake due to self desire, he uses it as an excuse to justify the disciplinary action which brings down Jung Ryul. After sending Jung Ryul to Coast Guard Investigation 9, he keeps a watch on every move of Jung Ryul, the suspicion never goes away.
Kim Dae-seong (played by Park Sung Kwang)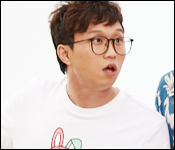 Gunsan station policeman. A Gunsan native police who is not playing trick and works seriously. In order to follow Sun Woo, he submits transfer request to central office which everybody else wants to avoid. Get scolded by Hye Jung everyday due to unfamiliarity with works in situation control room, but is innocent guy who will forget everything and smiles once seeing Ji Ah.
Lee Won Tak (played by Lee Sang Hoon)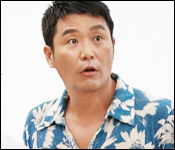 Gunsan gangster. Operates a salon in Gunsan red light entertainment district, is good friend of Sun Woo. As a gangster, he has brotherhood code which can die for loyalty.
Director Koo (acted by Lee Byeong-joon)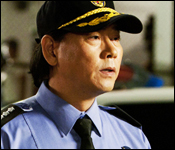 Chief of Gunsan police station.
Oh Kyeong-gam (played by Son Jong-beom)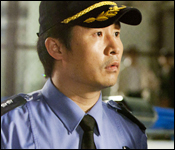 Captain in Gunsan police station.
Choi Hye Gon
Black society tycoon. The big boss behind cross-country criminal organization that has presence across Korea, Japan and China. Although he is called Choi Hye Gon within organization, but his name or substance is unclear, just like a ghost figure completely surrounded by a veil.
Jung Duk Soo (acted by Kim Joon-bae)
Popeye of Sincheon, boss of Busan smuggling organization, which is not many in the country, and is middle level member for Choi Hye Gon's organization. Based in Busan, the smuggling to Japan has earned him large amount of money, and is key figure responsible for significant portion of finance of Choi Hui Gon's organization. He climbs up the rank from the bottom, and manages to clinch the top position after finishing off many enemies. Always hands-on personally, and always revenge to payback. Launch devastating revenge plan against CGI9 which uses him as to investigate Choi Hye Gon.
Ahn Dong Chool (played by Jang Won Young)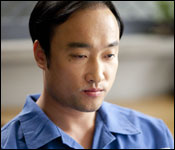 Boss of Gunsan smuggling organization. Based in Gunsan and is the middle person in charge of bottom ranks of black society that smuggle in West Sea (Yellow Sea) region. After been arrested by Sun Woo, he becomes the planted agent to help CGI 9 to catch the Popeye Jung Duk Soo. After Duk Su knows the fact, he is targeted for elimination.
Uhm Hee Sook (played by Park Won Sook)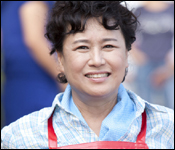 West Sea estaurant owner at Yellow Sea. Mother of Lee Soo Yoon.
Young Ran (played by Choi Ran)
Good friend of Uhm Hee Sook, comes to help at the West Sea restaurant. Always throw aside restaurant matters to chit chat with customers. Always get scolded by Hee Sook, but she is a delightful person who nobody will hate.
Bag Min Jeong (played by Jeon Mi-seon)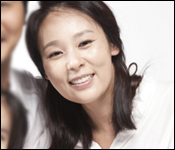 Wife by Jung Ryul, died because of Choi Hui Gon's organization.
Kwon Ha-na (acted by Kim Soo-hyun)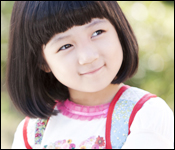 6 year-old daughter of Jung Ryul.
Cha Myung Joo (played by Lee Joo-sil)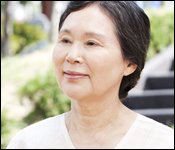 Mother-in-law of Jung Ryul. Lost the daughter because of Jung Ryul's job, and is taking care of Ha Na on behalf of Jung Ryul.
Poseidon Casts Photo Gallery