The ultra popular SBS's drama series Protect the Boss has managed to garner viewership rating of more than 20% in South Korea and Seoul region, and is still gaining in popularity. In the drama, the simultaneous kiss scenes between head of department Cha Ji Hun (played by Ji Sung) and secretary No Eun Sul (played by Choi Gang Hee) together with Cha Moon Won (Played by Jae Joong) and Seo Na Yoon (played by Wang Ji Hye) at different place, followed by confession of both Cha Ji Hun and Cha Moon Won that they like No Eun Sul, has created a more exciting thrill in the storyline.
The lead casts of the drama series who are involved in the love whirlpool pose with V-sign fingers in front of the camera, adding endless fun to the filming and encouraging each other to continue the hard work.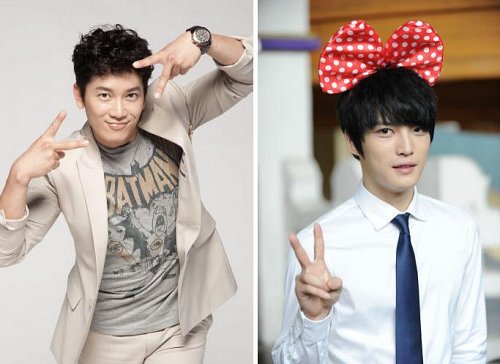 Firstly is Ji Sung who plays Ji Hun, posed for V-fingers photo wearing a cute batman T-shirt. Choi Gang Hee took the V-fingers picture holding a tablet during the shooting at the amusement park, while wearing a cute headband with cat ears. Kim Jae Joong who plays Mu Woon also took the V-fingers picture during the shooting at the amusement park. He is wearing a red-and-white polka dot Minnie headband with blue tie and showed his V-fingers, attracted many attentions. Wang Hi Hye who plays Seo Na Yoon posed with two cute V-fingers held up to her face, smiling brightly, at department head's room.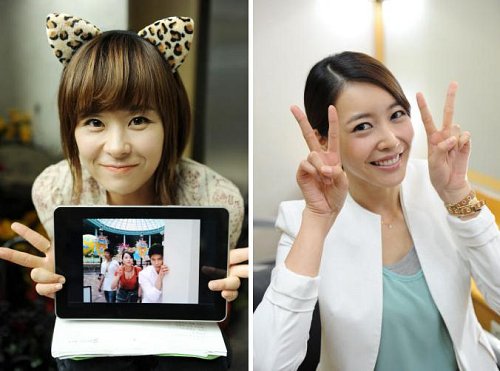 The production crew says, "Our cast members are working hard and show excellent team work. So the atmosphere at the team is excellent, and actors and actresses are hardworking. The pose of V-sign is the best proof. And we will hardworking till the last moment! I hope that our viewers stay with us until the end, and appreciate their support."
Meanwhile, Protect the Boss recorded a rating in exceed of 20% viewers in the recent episodes aired on 17th and 18th August (based on AGB Nielsen Seoul rating), and became the most popular drama series currently airing.
Thus, the V sign posed by the lead casts are probably to celebrate the victory and popularity of the drama too.
via Nate with additional comment.