Rainie Yang Chen Lin and fellow junior of same company, the ex-boyfriend of Elva Hsiao Ya Xuan, Sunny Wang Yang Ming, were spotted to be taking the same flight to the United States on November 21st, 2011. The ambiguous relationship let people puzzled. Sunny's close friend admitted on November 24th, 2011 that the two persons fell in love early October. Rainie Yang used to propose to make public the love relationship, but Sunny Wang whose fame is not as well known as her worried that outsiders criticize him as trying to gain fame by relying on girlfriend, and hence rejected her proposal. This time, both of them was visiting New York to attend friend's wedding, and it's learned that they will go to New Jersey to pay a visit to his parents along the way, and the trip had been ridiculed by friends as a wedding ceremony on probation. Both of them also celebrated Thanksgiving Day together with Sunny Wang's parents in the United States on November 24th, which shows the rapid development of romance.
The matching of the pair of Rainie Yang and Sunny Wang surprised many friends, because from the past romance history of them, both of them does not look like the type that each other prefers. Merely that the two persons have commonly known friends in the first place, in July the brokerage agency arranged Sunny Wang to be the lead actor for Rainie Yang's new song MV "Imperfect Beauty" (缺陷美), even though they had close interaction but they did not develop feelings at that time, until early September during a gathering at friend's house, Sunny Wang who has a crush on her took initiative to request for phone number, and launched aggressive courting. He even brought along good friend to support her concert in mid September.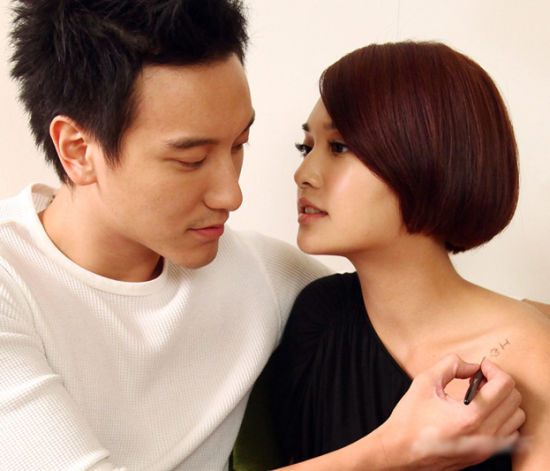 Girlfriend wants to make public
Finally Rainie Yang could not withstand the tender offensive from the handsome Sunny Wang in early October, nodded to agree to be his girlfriend, and even willing to make public the love affair. But Sunny Wang was concerned about the popularity of ex-girlfriend Elva Hsiao and Rainie Yang is higher than him, and did not want outside party to accuse him of gaining fame by making use of girlfriend, and so such both of them decided in the end to keep secret. But the friend of Sunny applauded her determination to openly announce the relationship, "She is really brave."
The happiness of Rainie Yang who not in love for just four year could no longer be hidden. On November 23rd, she revealed sweet message through the Weibo microblogging service, "On this world, there is a lot of people who is willing to tie your shoelace, a lot of people who is willing to feed you ice cream. But the person who can remember the flavor you liked, the style of clothes you liked is very little. Concrete things everyone can do, and abstract things only people who loves you can do for you." She had also publicly praised the idol drama "In Time with You" as a very good show, pointing that the acting of Ariel Lin Yi Chen is very good, but in fact the main reason is that her boyfriend Sunny Wang also acted in the drama.
15 days love trip
Another clue was when she attended "Apple Entertainment News"'s STAR PARTY on the October 19th, 2011. At that time, Sunny Wang who was already her boyfriend was also invited to attend. So she made it clear about the false rumor about Joseph Chang Xiao Quan on the scene, just didn't want Sunny Wang to mind. Both of them took the flight from Taipei to United States on November 21st, it's expected they will leave United States on December 5th, arriving Taipei on December 6th to end the trip of love that lasts 15 days.
The manager agent Jiang Cheng Jin said in lower about the love affair of celebrities at same brokerage agency, "She and he have mutual friends, and have known each other for a long time, everybody no need to think too much."
via Apple Daily