The affair of Rainie Yang and Joseph Chang Xiao Quan was spreading like wildfire this year, but recently it has been reported that Rainie Yang actually already has a new love, by receiving the old lover of Elva Hsiao Ya Xuan, Sunny Wang Yang Ming. Two other them was spotted several days ago to hold hand in a show of affection while waiting to transit to New York at Kansai Airport in Japan. Coupled with November 24th, 2011 was Thanksgiving Day, causing people to associate that Sunny Wang is bringing Rainie Yang to meet family members. In this way, Joseph Chang is sentenced to be out of the game.
Hand in hand while waiting for connecting flight
Liberty Times received tip off that Sunny Wang and Ariel Lin were seen at Kansai Airport of Japan at Tuesday, November 22nd, 2011. Sunny Wang was recognized easily because of his height, and Rainie Yang became a timid and lovable little girl beside him. They walked to the waiting room, holding hand without the need to avoid arousing suspicion, exuding a love atmosphere, causing the witness to almost drop his jaw. It's possible that both of them thought people in Kansai Airport is lesser, so lax preparedness, did not expect to be caught by sharp-eyed reader.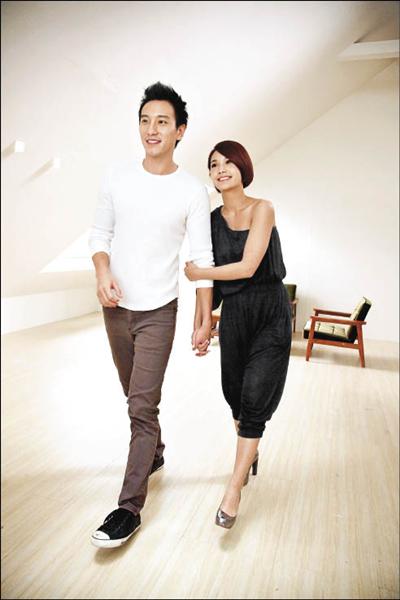 Rainie Yang: Pure imagination
Sunny Wang and Rainie Yang are considered to belong to the level of "strong electric discharge machine" in the entertainment world, the love affairs of both are splendid. Previously, Rainie Yang was frequently rumored to have ambiguous relationship with Joseph Chang, while Sunny Wang was also rumored to in relationship with model Nikki Deng Shao Ting and CatWalk model Shattina Li Xiao Han. Sunny Wang only got to get closer with Rainie Yang recently when Rainie Yang was shooting MV for "Que Xian Mei" (缺陷美). It's speculated that they may develop feelings towards each other at that time, and secretly developed love feelings.
In drama series In Time with You, Sunny Wang is playing the role of Ding Li Wei who wants to be together again with ex-girlfriend. Coincidentally, a few days ago he was ran across to have secret meeting with Elva Hsiao, whether they back in love is attracting concern. It's learned that Elva Hsiao and Sunny Wang will cooperate to produce a short movie, but now there is Rainie Yang, to make matter worse three of them belongs to the same company, which would be embarrassing when meet in future. In this regard, Rainie Yang denied outright, "Sheer fiction, on the same flight there were also Alex To and Samuel Tai, don't know how the tipoff came from."
Brokerage firm: Taking the same flight is just a coincidence
The brokerage firm of the three persons said: "Rainie Yang and Sunny Wang know each other, also have common friends, taking the same flight to United States of America, is just a coincidence. And regarding Sunny Wang and Elva Hsiao it was a matter of 7 years ago, now they're family."
via Liberty Times