Gong Yoo who returned to the small screen after the hiatus of 5 years become the "prince charming" of the female fans once again. Female fans are marveled at the "chocolate muscle" which is created through two months of dietary control and exercise.
In the episode 1 of KBS drama "Big" premiered on June 4th, 2012, Kang Kyung Joon (Shin Won Ho) and Seo Yoon Jae (Gong Yoo) completed the soul exchange. Seo Yoon Jae who was unfortunately fell into the river received the notice of death at the hospital, but the spirit of Kang Kyung Joon began to enter his body, and thus giving him new life. He confirms that his body was exchanged through the naked upper body, and the viewers are even more attracted by the sturdy body of Gong Yoo.
In the drama, Seo Yoon Jae played by Gong Yoo is still very cold a month before the wedding, and also a little sensitive. But with the entering of Kang Kyung Joon's spirit into the body of Seo Yoon Jae, the situation changes.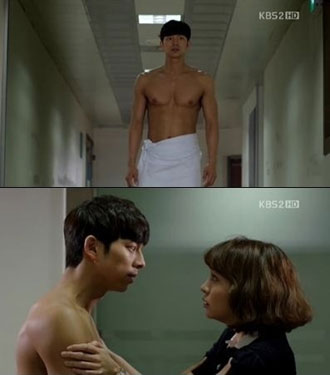 Seo Yoon Jae who was gentleman suddenly turned into troubled youth Kang Kyung Joon, and how will it changes the plot is one of the attraction for the drama.