What is the secret of Yuri in SBS' Fashion King, and Han Ji Min and Park Yoo Chun in SBS' Rooftop Prince to be able to speak fluent English lines?
In SBS Monday and Tuesday drama Fashion King, Kwon Yuri who plays the role of Choi Anna, can perform prefectly the feelings scene which includes kiss scene with Lee Je Hoon who plays the role of Jung Jae Hyuk. In order to speak fluent English dialog lines, Yuri revealed that she was getting the help of fellow Girls' Generation member Tiffany and Jessica, receiving widespread attention.
After receiving the English script, Yuri began to receive serious tutoring of Tiffany and Jessica who grown up in the United States since early age. As a newcomer, Yuri will ask whatever she doesn't know, and has displayed the astonishing English pronunciation in the drama.
Han Ji Min who is playing the role of 'workaholic' Park Ha in SBS Wednesday and Tuesday drama Rooftop Prince is receiving attention due to various interesting scenes with crown prince Lee Gak played by Park Yoo Chun. At the beginning stage of the drama series, Han Ji Min used to work in New York, the naturally fluent English spoken at that time exclaimed over by viewers.
Han Ji Min said that this was because of the help from relative who resided overseas for a long time. When there was no filming, Han Ji Min will learn English, and she has successfully showed the strength after getting the help of relative.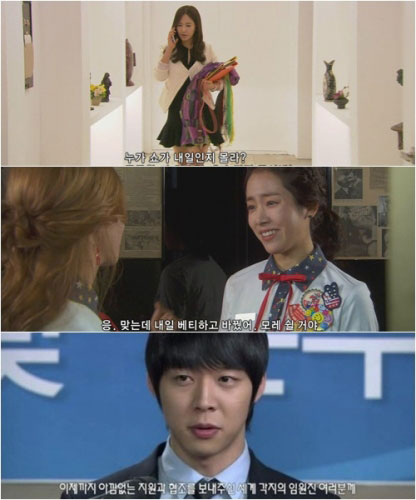 And the English strength of Park Yuchun who plays the role of crown prince in Rooftop Prince cannot be underestimated. In previous drama Miss Ripley, the scene of English speech in high standard was very eye-catching. It's learned that Micky Yoochun had been living in the United States since elementary school until before debuting on his entertainment career, that explains why his English is so good. And because of his performing activities in Japan for 5 years, his Japanese has no difference with locals.
Especially in the episode 4, after making clear to president Yeo that he is Yong Tae Yong, there is high possibility that he will restart to play the role of 2nd generation chaebol, and his foreign language skills in English and Japanese will be unfolded.
The production team said, "Not only has to say dialog lines in foreign language, there is emotional scenes as well, which are not so easy. Through the hard works of the actors, only can truly reflect the sense of reality of the drama." And added, "In future, the actors of the dramas will perform a lot of interesting scenes that are inserted with English, Japanese and other foreign languages."
via Joynews24