Shin Ha Kyun is enjoy the second prime era by staring in Brain drama series after a gap of 8 years.
Recently, KBS 2TV's Monday and Tuesday TV series Brain takes advantage of the opportunity of SBS's A Thousand Days' Promise in temporary halt to be in surge ahead trend.
The episode 8 of Brain broadcast on December 6th, 2011, where Shin Ha Kyun and Jung Jin Young were engaging in a fierce war of words compelled the rating to 11.8%, the highest ratings record for the drama so far. Although the solid plot plays significant role that contributes to the result, but the main hero of the drama is the charm of Shin Ha Kyun who plays the leading role.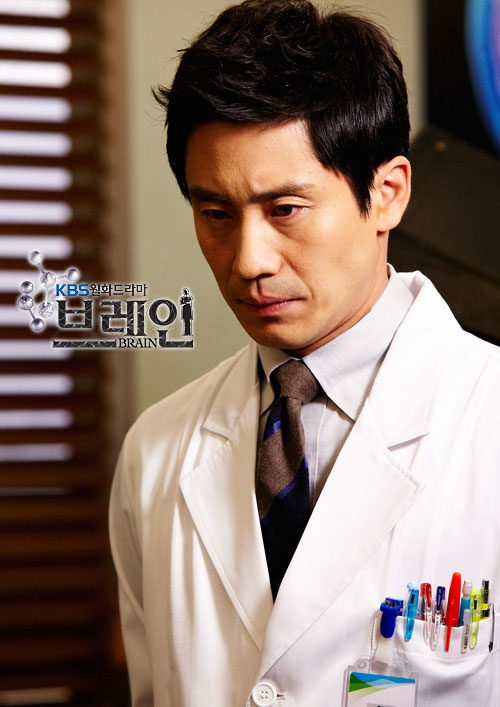 The self-made genius doctor overcomes the unfortunate environment, making people to reminiscent of Kim Myeong Min in "White Tower" and Lee Beom Soo in "Surgeon Bong Dal Hee."
On the message board of Brain, there are many postings that praise Shin Ha Kyun. "Anxiety Kyun" and other obvious modifiers, and even the increasingly popular the new buzzword of "Heart, Kyun, Kyun" proving his popularity. Articles about Shin Ha Kyun rejected CF that induces the fans such as "Shin Ha Kyun wants to buy car" and "Shin Ha Kyun condo life" also attracted attention.
Initially, the role currently played by Shin Ha Kyun has casted Song Seung Heon as the original actor. But one week to the start of first week of filming, Shin Ha Kyun took over the role as replacement. One should familiar with professional terminology, surgery process and other contents of medical drama, which may be burden to many persons.
One official of Brain said, "This time it's a big burder for Shin Ha Kyun." The officer continued, "One carelessness, the reputation of "skillful actor" accumulated over 13 years may be lost. Song Seung Heon rejected the casting with the reason of "lack of preparation time." Staff crews are singing praise of Shin Ha Kyun who took over the risky burden, but also shown his rapid adaptation ability to pull the hit drama.
via Nate