On the KBS Drama Awards that was held on the last day of 2011, December 31st, the Shin Ha Kyun greeted and thanked actor Song Kang Ho during his acceptance speech when receiving the Daesang award, attracting people's attention.
Shin Ha Kyun won the highest-honored Daesang (Grand Price) award with his performance in Brain drama in KBS Drama Awards ceremony that was live telecast from KBS Hall at Yeouido from 9:05 pm.
"(Attending the awards ceremony) is more difficult than surgery," he said tongue in cheek. "The award is the recognition for my acting. The result of care and love of many people to Brain," he expressed his thoughts. He went on to say, "Thanks to support of hospital in filming, and also the patients and staffs in the hospital." He continued as an afterthought, "Oh, would like to thank the passionate viewer of Brain, Song Kang Ho." Arousing laughter.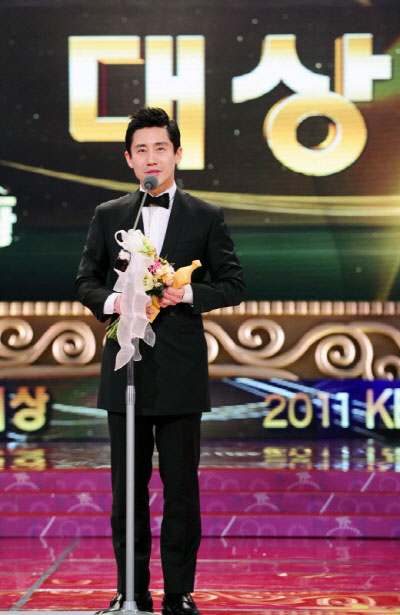 This is the response to the Brain been mentioned to be at the same time with SBS's A Thousand Days' Promise by Song Kang Ho during the "Blue Dragon Film Awards" ceremony where he was on stage together with Soo Ae as presenter.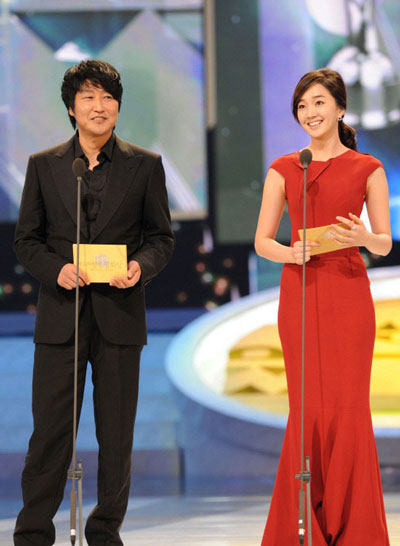 At the time, Song Kang Ho said, "A Thousand Days' Promise starring Soo Ae is interesting, but Shin Ha Kyun's Brain at the same time slot is also interesting," amusing the audience.
via Nate